Teddy Sheringham wanted to join Liverpool from Tottenham claims Roy Evans
The ex-England striker was keen on a move to Anfield until the club's board vetoed the move.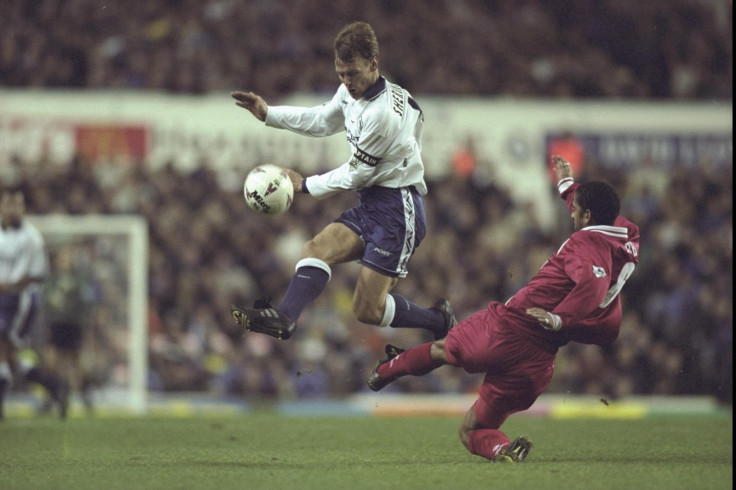 Former Liverpool manager Roy Evans has revealed he missed out on signing Teddy Sheringham during his tenure at Anfield after the club's board claimed he was too old. During Sheringham's first spell at Tottenham Hotspur he was subject to interest from the Reds but the deal never materialised.
The London-born forward would go on to join Manchester United in 1997 and spend four successful years at Old Trafford during which time he won three Premier League titles, the FA Cup, the Champions League and the Intercontinental Cup. He then returned to Spurs before stints at Portsmouth, West Ham United, Colchester United and Stevenage.
But his career could have taken a different path had the then 27-year-old been allowed to complete his move to Liverpool, instead of remaining with Tottenham. Evans, who managed the Merseysiders between 1994 and 1998, still regrets the deal which he says was derailed by the club's board.
"I'd say Teddy Sheringham," Evans responded when asked about his greatest transfer misgiving by Liverpool Way. "It was a boardroom decision not to sign him because of his age. They thought at the age of 27 or whatever it was that he was too old.
"Not too old to play, but too old to be a good investment. He went on to play a number of years with Man United and then back to Tottenham and was very successful.
"I spoke to Teddy before that and since then and he wanted to come, it was just a boardroom decision and as a manager you just have to take that. It was a fair answer, they just felt it wasn't right, although they were proved wrong by how Teddy played for United. You just take that on the chin though."
While Sheringham was busy staring for Tottenham and United – he would finish his professional career with 355 goals in 898 appearances - Liverpool went on a five-season run without a major trophy, while they remain without a league title since 1990.
For the start of that barren run, the Liverpool attack was led in-part by Stan Collymore who followed up a fine first season at the club with a second term dogged by off-the-field problems. Evans does not regret the signing but admits he kept faith with the England forward for too long.
"At the end of the day there was disruption in the camp so we felt the right thing was to move him on, but if I had a choice I'd have rather had Stan at his very best than another player instead because he was a great player.
"Sometimes when you buy a player who isn't good enough, the mistake isn't buying them, it's continuing to play them just because you've bought them. Sometimes you have to say "enough is enough" and move them on. You learn that part of the game."
© Copyright IBTimes 2023. All rights reserved.