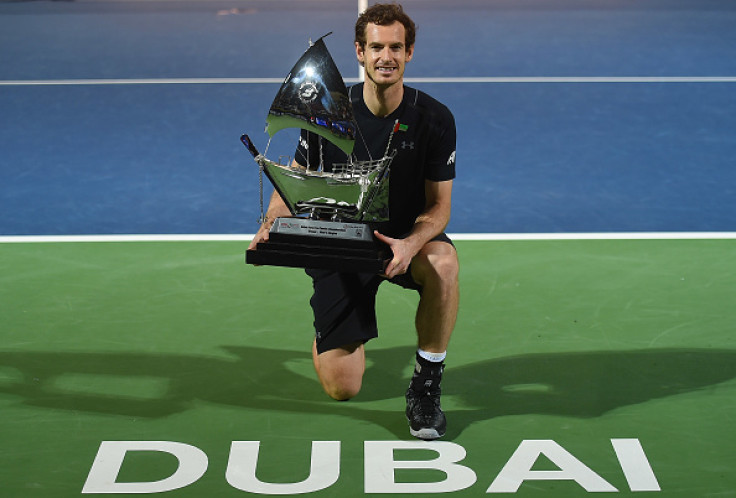 Andy Murray is not ready to let go of his world number one status and is keen to end the year at the summit once again.
The Scot reached the top of the ATP men's singles ranking in November last year – world number one for the first time in his career – and is guaranteed to maintain status quo even if he loses in the first round in the next four tournaments at Indian Wells, Miami, Monte Carlo and Madrid.
Murray captured his first title of 2017 at the Dubai Tennis Championships last week when he beat Fernando Verdasco 6-3, 6-2 and is in a buoyant mood ahead of the first Masters Series tournament of the year at Indian Wells. He consolidated his status as the top ranked player with the win in Dubai and is now 2,215 points ahead of Novak Djokovic.
The 29-year-old, however, is focused on the Race to London rather than the ATP rankings in which he currently occupies seventh place – a 16 place rise after his recent win in Dubai. Roger Federer and Rafael Nadal occupy the top two spots at the moment owing to them finishing as the winner and runner-up at the Australian Open respectively.
"Now that I've got there, I would obviously like to try and finish the year at No 1 again," Murray said, as quoted by the Times.
"But because of the way our ranking system works, you start the year fresh with a clean slate. It's motivating for me to see that I am behind Rafa and Roger, to try and catch them, rather than looking at it like, 'I've got a lead, I can sit back and relax for the next few months because it's unlikely anyone can overtake me in the next few weeks'," the Scot added.