The supermarket Tesco has launched Clubcard TV, its own on-demand video service powered by Blinkbox to rival LoveFilm, Netflix and Now TV.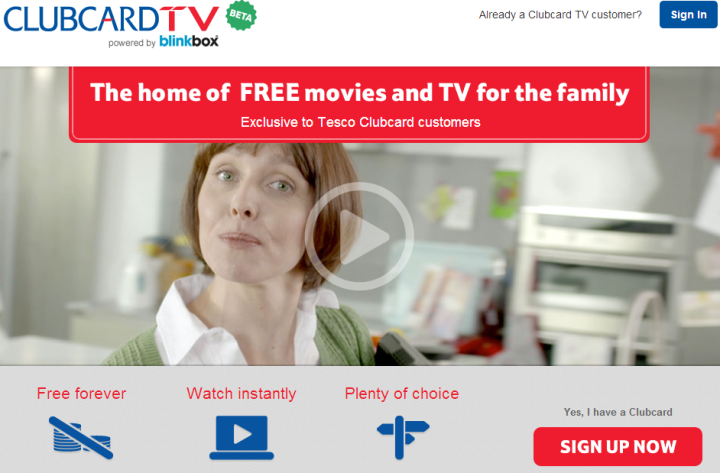 Tesco claims the service will let users stream films and television to their computers "free forever," - the only catch being that users must have a Tesco Clubcard to join the service.
Provided by Blinkbox, which Tesco bought a controlling 80 percent share of in April, 2011, the services has content such as Batman and Superman films, as well as the TV series Goodness Gracious Me and Two Pints of Lager & a Packet of Crisps, although the landing page doesn't yet show much in the way of new releases.
The service claims to have thousands of films and TV programmes to choose from, and we expect to see more content added over time, although you shouldn't expect to get the latest Hollywood blockbusters or HBO content as soon as it's available elsewhere.
The supermarket says that Clubcard TV is "a thank you to our customers - there are no charges, contracts or subscriptions," and promises to offer "a huge range of comedy, drama, kids TV, romance, thrillers and documentaries."
Although the service is currently operating as a closed beta for staff only, Blinkbox has told IBTimes UK that Clubcard TV will open its doors to customers in the spring.
Instead of taking the Netflix approach of offering a comprehensive range of applications to bring its content to all of your devices, Tesco has taken the simpler option of explaining in a promotional video how easy to is to connect your laptop to most modern televisions, bringing Clubcard TV content to the big screen.
When Tesco's 80 stake in Blinkbox was bought in 2011 it was claimed that the service had a catalogue of over 9,000 films and two million users per month, and while Blinkbox was the first legal streaming service to be optimised for the PlayStation 3 nearly two years ago, the company has kept a low profile since the Tesco takeover, allowing rivals Lovefilm and Netflix to occupy much of the UK's on-demand TV market.
Last year, Tesco used its control of Blinkbox to allow customers who bought DVDs in-store to watch the films online through the streaming service.
In August 2012 rival supermarket Sainsbury's announced that it had teamed up with on-demand video service Rovio to extend its Sainsbury's Entertainment brand to bring customers an extensive library of films and TV