These are tough times for the world's third largest retailer, Tesco.
Its troubles continued into the first quarter of 2013 with a 0.1% like-for-like sales drop - but what are the issues that have battered the company so badly in recent months?
IBTimes UK takes a look.
2012 profit drop
Tesco suffered its first profit fall in more than 20 years in 2012/13.
Underlying profit for the year ending 13 February plunged by 14.5% to £3.46bn.
Philip Clarke, Tesco chief executive, blamed "natural consequences of the strategic changes" which included an £804m write down of its UK property portfolio and a shock announcement that it would be exiting the US market, which it operates in under the Fresh & Easy brand.
Its US venture was started only in 2007 but had grown to 500 stores and more than 5,000 staff.
Trouble was, it also swallowed £1bn, a hefty sum considering not a single annual profit was made by Fresh & Easy since its launch.
Perhaps Americans prefer Stale & Difficult, like Mel Gibson's career.
Horsemeat scandal
More Tesco woe galloped (sorry) on to the scene in early 2013 when four of the supermarket's beef products were found to be contaminated with horsemeat.
One item - Tesco's Everyday Value Spaghetti Bolognese - tested positive for 60% horsemeat, though this had little effect on the product's overall edibility. If anything, it had more culinary appeal avec cheval.
Bosses issued a grovelling apology and withdrew the affected products, but neighther (sorry again) could stop the torrent of jokes, abuse and horror.
Tesco's share price tumbled and its Q1 management statement revealed a drop in ready meal sales as punters were put off the idea they might be eating Dobbin for dinner (not sorry anymore).
Asian sales drop
Tesco said its Asia sales, which dropped by 3.8% on a like-for-like basis in the first quarter, were knocked by public health concerns over meat and tight regulations.
Bird flu is back in China and the population's fear of catching the virus has sent poultry sales plummeting. There had also been worries about contaminated pork from the country's largest meat processor, with tests having shown samples to contain the illegal chemical Clenbuterol.
In South Korea the government brought in new rules tightening supermarkets Sunday opening hours to help protect smaller, local markets from intense competition from their behemoth rivals - and Tesco took a hit.
Consumer electronics
Tesco reported decent sales growth in some areas of its non-food products, such as clothing, but it has - to use its own words - a "disproportionate exposure to consumer electronics".
Consumers are pinched by falling incomes and sticky inflation and their disposable income is seriously limited. When times are tough, it is difficult to justify buying a new television.
As entertaining as frying your retinas by watching Eastenders on a 60" HD screen may be, a swanky television won't heat your home and you can't eat it. It also won't do your debt pile any favours, either.
This leaves retailers such as Tesco battling hard against weak demand, which means margins are squeezed by promotions and discounting to shift stock out of the doors.
Dull stores and tired brand
There is drab. And then there is Tesco drab. Both its brand and stores are tired and in desperate need of overhaul.
Tesco superstores are joyless misery palaces lined with cramped aisles where trolley-pushing zombies bounce off of one another in their groaning quests to find pallid meat, trough-worthy ready meals, and baked beans.
The dated logo - Tesco in a red coloured font with each letter underlined by a horizontal blue rule - is as ubiquitous on Britain's streets as dog turd and evokes a similar grimace.
One of Tesco's problems across recent years is to focus on expansion at the cost of renovation. Rather than concentrate on tidying up decaying stores, they opened new ones instead at an incredible pace.
YouGov's BrandIndex measures what it calls "Buzz". The Buzz index is calculated from consumer surveys on whether they have heard anything positive or negative about a brand in the past week.
This chart plots Tesco's Buzz against Sainsbury's from start of 2013, when the horsemeat scandal hit, and shows just how far behind it is.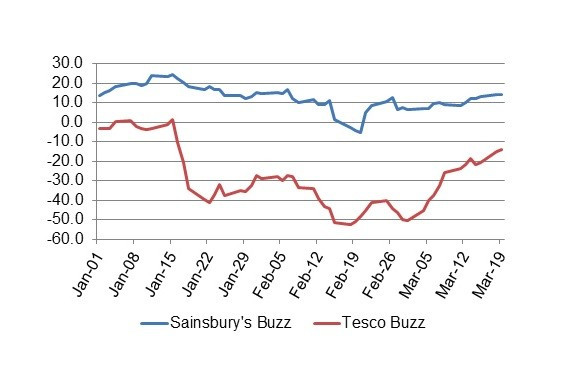 In April 2012, Tesco announced a £1bn investment to revamp its UK business by doing up stores and employing more staff in a desperate attempt to reverse the general decline in its market share.
A new marketing push is also anticipated - delayed by the horsemeat scandal - to revitalise Tesco's brand.
The big question is: will all this turn the firm around?
"Tesco's goal is to shift business from low-margin, low-growth categories to higher-margin, higher-growth categories; an admirable aim but not easy to implement," said Matt Piner, research director at retail analyst Conlumino.
"In fact, this is the crux of Tesco's problem; its challenges are much easier to identify than they are to fix. In non-food, for example it will re-launch its range and re-configure space in larger stores, but this will take time to produce significant results.
"Similarly, attempting to overhaul the consumer experience, whether through more appealing branding or introducing new features, such as restaurants and bakeries, to stores, is the kind of step that takes years, rather than months, to properly execute. Therefore, there could well be a few more bumps in the road to recovery."