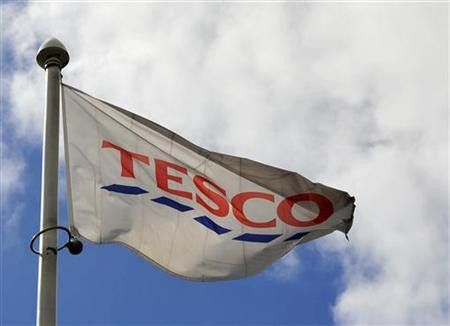 Shares in Tesco were up on the FTSE 100 in morning trading after the supermarket giant reported double digit profit growth in the half year ended 28 August.
Group sales including VAT were up 8.3 per cent to £32.9 billion, while revenue excluding VAT rose 7.1 per cent to £29.8 billion.
Underlying pre-tax profit was reported as being up 14.1 per cent to £1.8 billion while pre-tax profit for the group increased 12.5 per cent to £1.6 billion.
Tesco said it would be raising its dividend by 12.3 per cent to 4.37 pence per share.
By the end of the year Tesco said it expected net debt to be down to seven billion pounds by the end of the year. The group said it had made £1.2 billion in property divestments
In addition the group said that it expected to create 16,000 jobs this year, of which 9,000 will be in the United Kingdom.
Terry Leahy, Chief Executive of Tesco, said, "The global economic headwinds of the last two years are being replaced by the tailwinds of recovery in most of our markets and this is helping our International businesses to resume strong sales and profit momentum. Our important Asian markets in particular are emerging strongly from recession and we are now benefiting from the substantial investment we continued to commit to the region during the downturn.
"In the UK, we have coped very well with subdued demand and modest levels of industry like-for-like growth, helped by excellent productivity, a pleasing performance from new stores and good growth from our Services businesses, particularly online and Tesco Bank. Economic recovery in the UK is slow and steady and I believe our investment in making the shopping trip even better for customers means that Tesco is well-placed to grow in this environment."
Richard Hunter, Head of UK Equities at Hargreaves Lansdown Stockbrokers, commented, "The departing Chief Executive leaves a steady ship which is poised for further success.
"Tesco's geographical diversification continues to come into its own, particularly in Asia, where its contribution has helped propel trading profit to exceed expectations. Furthermore, after a rocky start, the US business sees profitability emerging on the horizon. Nearer to home, the UK performance remains robust, helped by the popularity of its Finest range and the growing contribution of its online presence and Tesco Bank. The fierceness of competition within the food retailing sector along with consumer caution remain genuine headwinds, although there has been a focus on productivity to mitigate these threats.
"In all, the numbers have been well received and the outlook is promising. The shares have largely performed in line with the wider market, rising 10% over the last year for example compared to an 11% gain in the FTSE100. The general market view of the shares as a strong hold is likely to come under positive pressure."
By 08:15 shares in Tesco were up 1.08 per cent on the FTSE 100 to 435.00 pence per share.