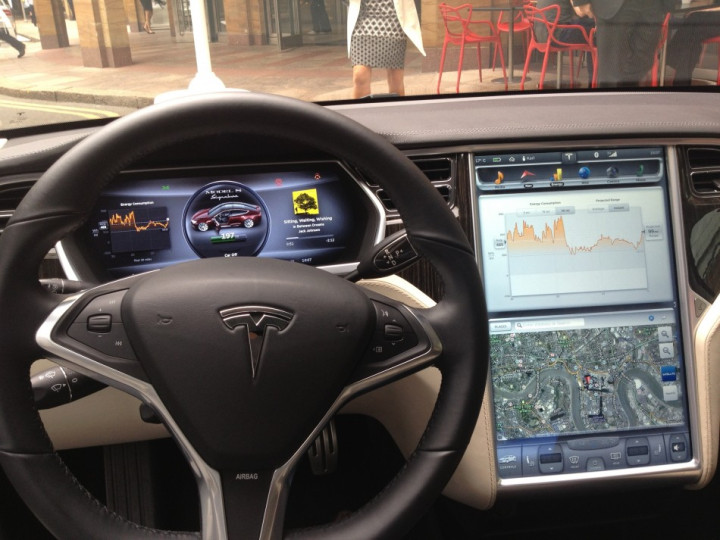 Whether you drive a £12,000 Mini or a £250,000 Rolls Royce, the dashboards will be roughly the same; a collection of dials, buttons, switches and the odd small screen.
But Tesla and its CEO Elon Musk have never really cared much for how things should be, this is a company more concerned about showcasing how things could be.
The all-electric Tesla Model S saloon car has five leather seats and a steering wheel as you'd expect, but the dashboard is dominated by a 17in touchscreen powered by two, quad-core Tegra 3 processors, running a custom Linux operating system which controls everything from the sunroof to the suspension.
Heater, air conditioning and volume controls are always kept at the bottom of the display and can also be controlled by scroll wheels and buttons mounted to the steering wheel, with changes displayed on a second screen behind the wheel, where the dials of a regular car are located.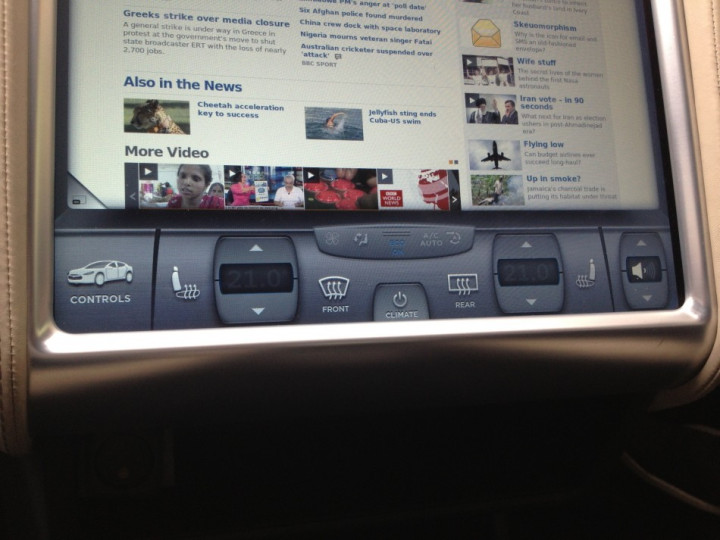 The majority of the 17in screen is used to flick between satellite navigation provided by Google Maps, a web browser, media playback interface, view from the HD rear parking camera, performance analytics, and controls to alter ride height, lights and door locks.
During our brief hands-on with the Tesla Model S we found the 1280 x 600 screen to be very responsive to our inputs, sharp and bright, although we're yet to see how the display manages in direct sunlight when the car's enormous panoramic sunroof is fully open.
The in-car computer relies on a mobile internet connection for its mapping and web browser, and this can be achieved by either pairing it to your smartphone, or by paying Tesla an as-yet undisclosed monthly fee for Europe-wide 3G access. This connection is also how Tesla improves the car's software with automatic over-the-air updates.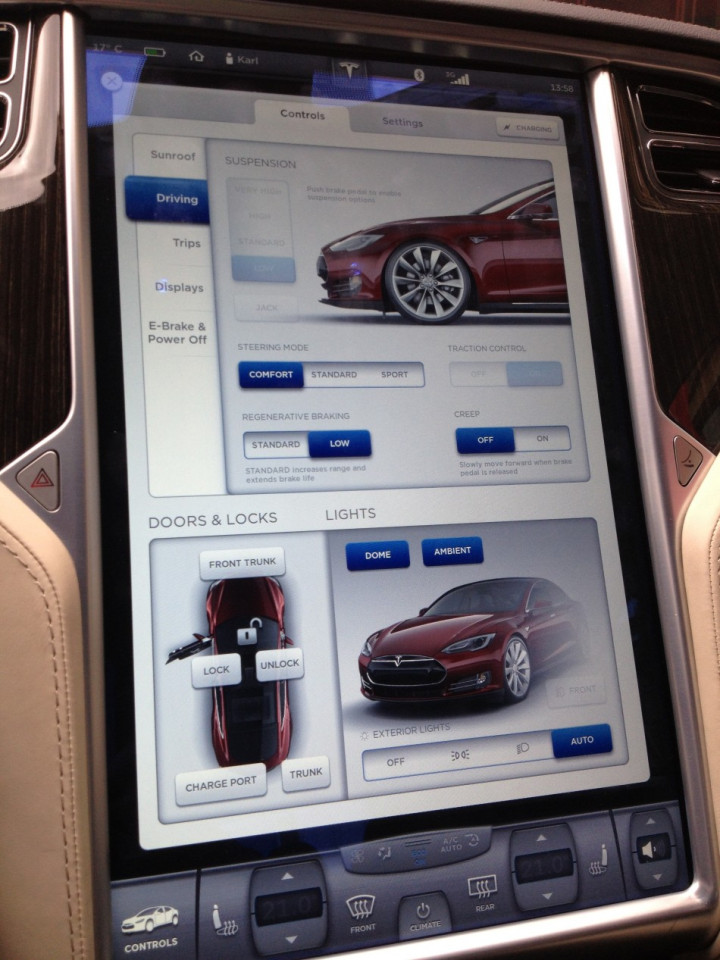 Pairing a smartphone via Bluetooth integrates the device's media playback and calling functionality, which can be controlled by the steering wheel, touch screen, or voice commands.
In-car entertainment is nothing new, but Tesla's attention to detail goes beyond anything other car manufacturers are producing; for example, if driving alone, the owner can tell the audio system to centre music around the driver's seat, or centrally if the car is full of passengers.
Tesla will be bringing right-hand-drive versions of the Model S to the UK later this year, but does not yet have any of its Superchargers installed to quickly recharge the car's batteries. At first, Tesla will encourage owners to charge their cars at home, where each hour plugged in gives 31 miles of range.
However, a Tesla spokesperson told IBTimes UK that by the end of 2014, Model S owners in London will be able to drive to Edinburgh (400 miles) or Paris (280 miles) using Superchargers to quickly top up their batteries along the way.
The company is yet to reveal how many Superchargers will be installed across the UK and Europe next year, but it is currently increasing its US charging infrastructure from eight to 26 Superchargers, so is obviously keen on quick expansion.
The Model S is priced from $57,500 (£37,000) in the US, and although UK prices are yet to be announced, a deposit of £4,000 can be paid to get your name on the waiting list.