The electric Tesla Model S will be available as a right-hand-drive version in the UK by late March, company founder and CEO Elon Musk has stated.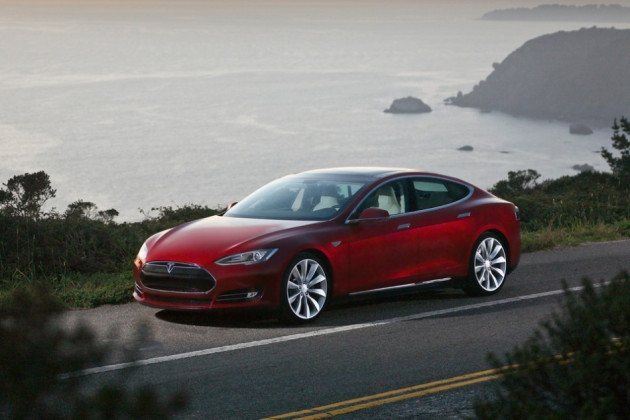 Speaking with Irish Prime Minister Enda Kenny at the Web Summit conference in Dublin, the billionaire entrepreneur who co-founded PayPal confirmed the all-electric saloon, which was recently claimed to be the safest car in America, will soon arrive in the UK.
The car is expected to cost between £50,000 and £88,000 depending on the performance, optional extras and battery size specified by the buyer.
The Model S can be reserved now through Tesla's website for a £4,000 deposit, while the premium Model S Signature requires a £30,000 deposit. Both of which are refundable if the buyer cancels their order.
Speaking to Kenny about the challenges faced in making an all-electric car appealing to the mass market, Musk said: "If you say electric car, people don't have good associations. In order to be successful, we had to have sex appeal, great handling and long range."
Being a large, premium saloon car, the Model S's closest rivals with conventional engines are the Mercedes S-Class, BMW 7-Series and Jaguar XJ. Despite weighing a little over two tons, the Tesla's battery pack accounts for a quarter of this, and because the weight can be placed low down in the car's floor, its centre of gravity is much lower than any rival, aiding handling.
Like an iPhone
When it was suggested by Kenny that the Model S can be compared to Apple's iPhone, Musk highlighted the importance of product design. "Steve Jobs was ultra product-focused, down to little details. He and people at Apple tried to have these likable things - the product just made you happy. We're trying to do that with the Model S."
With its share price up 480% over the last year Tesla is good shape, but the company had a troubled start trying to raise a funding round during 2008 - just as the recession forced Chrysler and General Motors into bankruptcy. Musk recalls: "We were racing around in 2008 and we were barely able to raise money from existing investors and I put everything I had for Tesla.
"We closed [a funding deal] at 6pm on Christmas Eve 2008...we would have gone bankrupt six days later."