The Tesla Model X has gone on sale in the UK, with prices starting from £71,900 before tax incentives and projected savings due to not buying petrol. Finance deals begin at £649 per month based on a 36-month term and 10,000 miles per year, with a down-payment of £18,000.
These prices are all for the entry-level Model X 75D, which has a 75kWh battery and a claimed range of 259 miles. Tesla reckons that, after tax and fuel savings, the real-world price is £67,100. The cash price of the mid-range 90D starts at £82,400, while the range-topping P90D comes in at £99,800. Both of these then receive a £4,500 discount from the government, which will run until March 2018.
Tesla also offers a lengthy options list, including the Ludicrous Speed Upgrade (£8,700), which takes the 0-60mph time of the P90D down from 3.8 to 3.2 seconds. Although the Model X is widely marketed as a seven- or six-seater, the car actually comes with just five seats as standard.
Tesla then charges an extra £2,550 for a six-seat interior (three rows of two) and £3,400 for seven seats in a two-three-two formation.
Autopilot, Tesla's autonomous driving system which takes control of the accelerator, brakes and steering on multi-lane roads like motorways, costs £2,200. A 'premium upgrade' package, including front doors which automatically open as you walk up to them, the Hepa air filter which is a claimed 100 times more effective than those of other cars, Bioweapon Defence Mode and other gadgets costs £3,900. An uprated stereo system, with 16 speakers and a subwoofer, costs £2,200.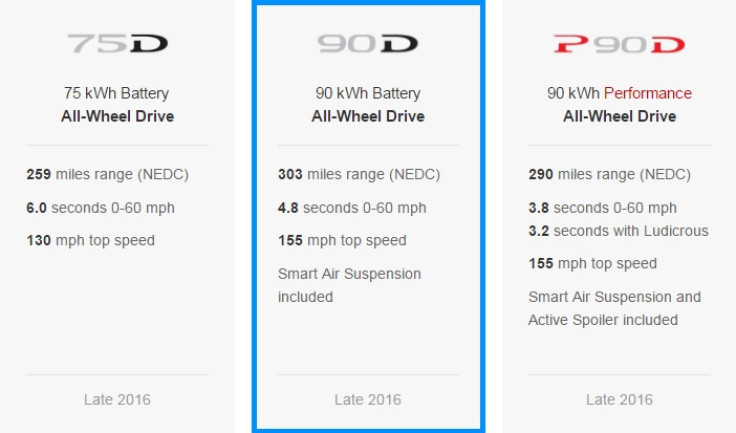 Tesla says Model X orders placed in the UK now will be delivered in "late-2016".
Standard equipment for the Tesla Model X includes regular software updates issued over its included 3G internet connection, free charging through Tesla's own Supercharger network, maps and navigation with real-time traffic information, a DAB+ radio, keyless entry and the car's unique Falcon Wing rear doors. The Model X's battery and drive unit have an eight-year, unlimited-mile warranty, while the rest of the car has a four-year, 50,000-mile warranty.