Anonymous hacking collective has attacked all the public accounts of a renowned grey-hat hacker called "the Jester", who was recently accused of helping the FBI to arrest members of UGNazi global hacking group.
"Jester, it's time to retire.: All of your accounts are owned. Your Email, Twitter, YouTube, Goo... http://bit.ly/NBlhIv ‪#anonymous," Anonymous declared from the hacked Twitter account of the Jester or th3j35t3r.
The collective also threatened to publish the content of materials hacked and claimed to have breached the Jester's banking account.
"Tango Down: All my accounts for facilitating a lie that I am a hacktivist. http://bit.ly/OopA97 ‪#anonymous‬ ‪#wise‬," reads another tweet from the hacked Twitter account.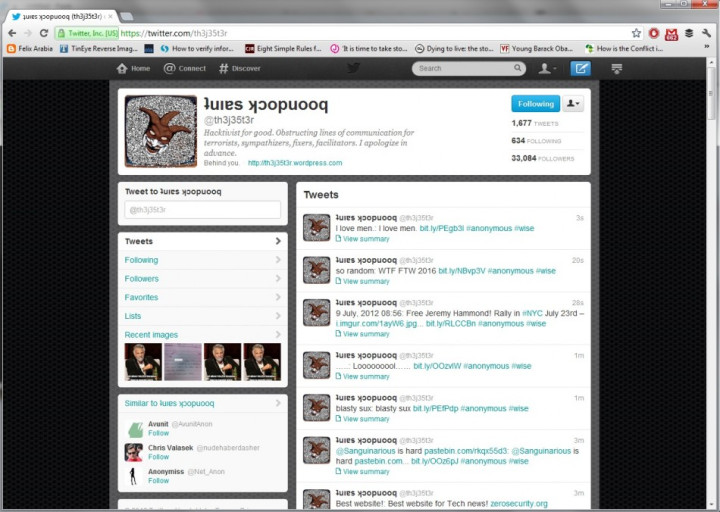 The Jester had been running a public online campaign to expose the group members of UGNazi, a global hacking group who claimed responsibility for disabling Twitter for 40 minutes worldwide at the end of June.
In the largest outage in eight months, Twitter experienced several service interruptions on 21 June. "Users may be experiencing issues accessing Twitter," the company wrote one its status blog. "Our engineers are currently working to resolve the issue. Update: The issue is on-going and engineers are working to resolve it,
On 27 June, the FBI arrested 24 hackers. Among them, two members from UGNazi, who aligned itself with the Anonymous group.
Hackers from the US, Norway, Australia, Japan, Italy and the UK were included in the operation. One of them, Mir Islam, known online as "JoshThe God" was charged with trafficking in 50,000 stolen credit card numbers. Authorities said Islam was the self-proclaimed leader of the UGNazi hacking group. The investigation started two years ago, with the FBI agents posing as hackers on Internet forums, prevented more than US$200 million in losses on over 400,000 compromised consumer credit and debit cards, US authorities in New York said.
The Jester is considered a grey-hat hacker in the Internet slang, or a computer vigilante whose online activities fall somewhere between white and black hat hackers.
Just like Adrian Lamo, the "world's most hated hacker" who exposed the alleged WikiLeaks source Bradley Manning to the US authorities, the Jester regards himself as an online Watchman or "hacktivist for the good". His motto is "obstructing lines of communication for terrorists, sympathizers, fixers, facilitators".
The Jester had previously targeted pro-jihadist recruitment websites and WikiLeaks when it started releasing information dumped from the US military.
The Jester claimed responsibility for the attack that briefly cut off access to the WikiLeaks website just as the site was preparing to publish a digital trove of US embassy cables allegedly provided by Bradley Manning.
In the past, he claimed to be "an ex-soldier with a rather famous unit".