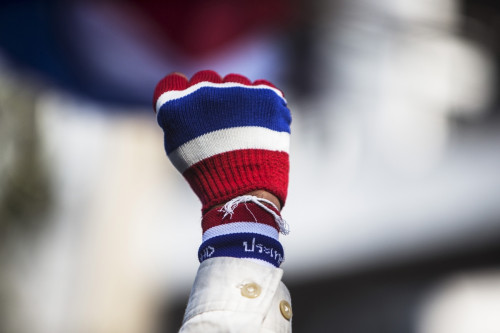 Thai protesters demanding the resignation of Prime Minister Yingluck Shinawatra have tightened their siege of the capital, forcing government establishments to remain shut and paralysing normal life in Bangkok.
A fringe group of the opposition People's Democratic Reform Committee (PDRC) also threatened to attack the Bangkok stock exchange saying it represented the "wicked capitalist system" that created billionaires such as Thaksin Shinawatra, the bother of the current prime minister and a premier himself, who was overthrown in an army coup in 2006.
However, the PDRC said the stock exchange was not a target.
Suthep Thaugsuban, the Opposition leader, had earlier said that the blockade of the capital would remain in force until Yingluck stepped down. "We must surround government buildings, closing them in the morning and leaving in the afternoon," Suthep told supporters, according to Reuters.
As many as 60,000 demonstrators spent the night on streets, CNN reported, citing Lt Gen. Paradon Pattanathabut, the country's security chief. They reoccupied their positions around vital government establishments like ministries, the customs office and the planning agency in a bid to paralyse the government, but said public utility services were not their targets.
"We will not lay siege to places that provide services for the general public, including airports, the stock exchange and trains. However, we will block government offices to stop them from functioning," said Akanat Promphan, PDRC spokesperson, according to Reuters.
Schools remained closed in Bangkok and protesters blocked traffic intersections, while several popular tourist areas were under siege on day two of the latest edition of the "Bangkok Shutdown". Around 20,000 security personnel have been deployed around the city.
Yingluck, who is facing down the toughest challenge to her regime, worked from a defence facility outside Bangkok on Monday, but Tuesday's cabinet meeting has been cancelled, officials said.
The latest flare-up of the anti-government agitation was triggered by the government's controversial amnesty bill that might have allowed former leader Thaksin Shinawatra to return from his self-imposed exile.
The billionaire former premier is seen by Bangkok's middle classes and the royalist elite as divisive and they have vowed to stop any attempt by Thaksin, who is in self-imposed exile, to come back to the country.
Suthep and his supporters in the Democratic Party believe Yingluck's government is a proxy for Thaksin and have demanded the overthrow of the Pheu Thai party government, which came to power after the July 2011 general election.
The government's proposal for an amnesty bill shook the tenuous political calm in the country, and Yingluck's decision to backtrack on the bill did not quell the anti-Thaksin protests in the capital.
Yingluck then announced the dissolution of parliament and fresh elections in February. However, the protesters have stuck to their demand that the prime minister cede power to a caretaker administration under which the elections should be held.