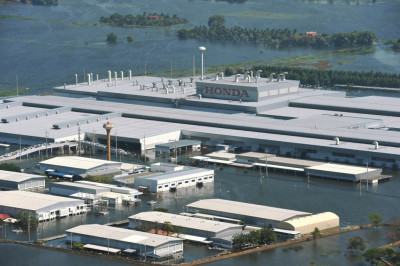 Flooding in Thailand has killed more than 500 people and has caused an estimated £2.5 billion of damage following three months of heavy rain. The computer industry is being affected as the majority of the world's hard drives are manufactured in Thailand, and these factories have been forced to close, sending global hard drive prices soaring.
Analysts have warned that there could be a dire shortage in hard disk drives, with the possibility of stock running out entirely before December, due to the Thailand floods.
It is believed that there is a global demand of about 180 million hard disk drives for the fourth quarter of 2011, but experts believe that only 100 million to 120 million drives will ship, resulting in a deficit of 60 million to 80 million drives.
Barclay's recently started that the global PC growth could fall in the fourth quarter from the forecast 7.2 per cent down to 4.3 per cent due to the floods.
A worst-case scenario, as predicted by the International Data Corp., could see a 20 per cent cut in PC shipments in the first quarter of 2012. "Even the largest vendors are expected to face HDD shortages, particularly for portable PCs where the market is more consolidated," the IDC said.
The IBTimes reported last week that consumers are already seeing dramatic increases in HDD prices, with some drives increasing from around £30 to over £80, and the floods are expected to cut worldwide drive production by 50-80 million units over the next year.