A university in Thailand revises its school uniform requirements to accommodate transgender students.
Usually, students are expected to wear the "usual" uniform — boys wear slacks and girls wear skirts, both with white button shirts. But now Bangkok University — Thailand's oldest private college — has issued guidelines for appropriate dress under four categories: boy, girl, "tomboy" and "ladyboy" (pants are a tighter fit if they choose). Students there are now free to choose either uniform with no repercussions, reports the Global Post.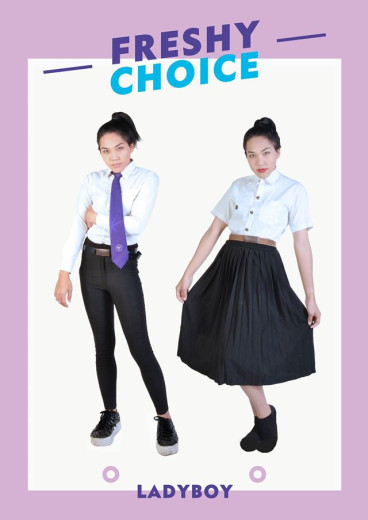 The word "tomboy" carries a different connotation in Thai culture. The word "tom" in Thai can be loosely translated as "butch lesbian." And a tomboy isn't necessarily transgender. She may present as a male without considering herself to be male.
Transgenders still must follow other uniform guidelines: don't be a slob, skirts must be at least knee length, shirts have to be tucked in, ties must be part of the pants uniform.
"I am very glad to hear that this university lets the students choose the uniform which fits their desire and their gender," Nok Yollada, President of the Transgender Female Association of Thailand, told the BBC.
"We're ready for our transgender students to come and learn," the school says on its Facebook page. "Just dress in a neat fashion."