Wenger Coy on Walcott Deal
Arsenal manager Arsene Wenger is hopeful Theo Walcott's new contract will be signed 'very, very soon'.
Walcott is out of contract at the end of the season but is understood to have agreed the framework of a three-and-a-half year deal worth £100,000-a-week.
Speaking after Arsenal's 1-0 win over Swansea City in the FA Cup third round replay, Wenger said he was optimistic Walcott would pen the new deal in the near future.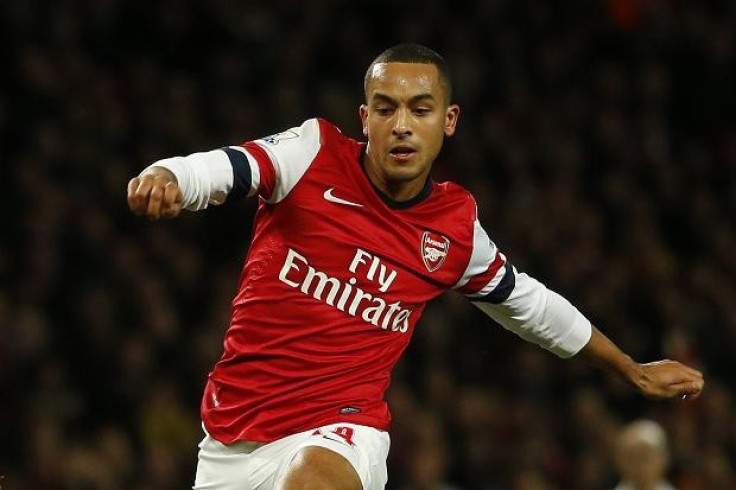 "Let's first try and finish the deal and see what we can do from there," Wenger said. "I hope it will be soon. Very, very soon now."
Should Walcott sign the extension, it would be a significant victory for Arsenal, who have in consecutive summers seen Samir Nasri, Gael Clichy and Robin van Persie depart in the final year of their contracts.
With a career-best 14 goals this season, Walcott has shown his worth in a central role in the current campaign, strengthening his stance in his contract negotiations.
Jack Wilshere, who has already signed a new deal this season, scored the decisive goal as Arsenal booked a fourth round tie with Gus Poyet's Brighton and Hove Albion after defeating Swansea.
"He was outstanding tonight," Wenger admitted. "I felt many players played well. As a team we played well and he was in a different position, he was high up and it suits him well.
"I have no experience of player being out for 17 months in my whole career, but honestly I always said that if we got Jack on January 1, then we would have done well. But he is ahead of what I could imagine.
"We had a better team balance tonight and created chance after chance, especially in the second half but even in the first half we created chances.
"It was unbelievable that we couldn't score, but we got it in the end. We persevered and were rewarded and we had a good performance.
"It gives you a lot of regrets that we played with 10 men on Sunday when you see our second half and our game tonight. It is important that we continue to develop like that as a team."
© Copyright IBTimes 2023. All rights reserved.