Theo Walcott believes that Arsenal's 6-0 win over Ludogorets was much harder than the score line suggests as the Bulgarian side pressed the ball high up the pitch and made life difficult for the Gunners in the first half. Alexis Sanchez's goal opened the floodlights for the Gunners in the opening period and David Ospina had to save Arsenal a lot of times before Walcott's strike put the game beyond a shadow of doubt.
"They started the game very strongly, technically they've got a lot of very good players and you may say it was quite easy, but no. Like Musti said, it was far from easy. So yeah, we can be proud of that and look forward to the weekend now," Walcott told Arsenal's official website.
Alex Oxlade-Chamberlain tripled the score just after half time while Mesut Ozil scored his first hat trick of his career to complete a comprehensive win for the Gunners and all but confirm their place in the round of 16.
However, the Gunners will be warned that they have been crashing out of the round of 16 for the last six seasons on the bounce and Arsene Wenger will be imploring his players to complete the job before celebrating.
The north London club are currently joint on points with Paris Saint-Germain and the group may be decided when the duo meet each other on the fifth matchday, having drawn the first leg 1-1. Walcott insists that it is imperative for them to top the group which would make it likely for them to get an easier opponent in the knockouts.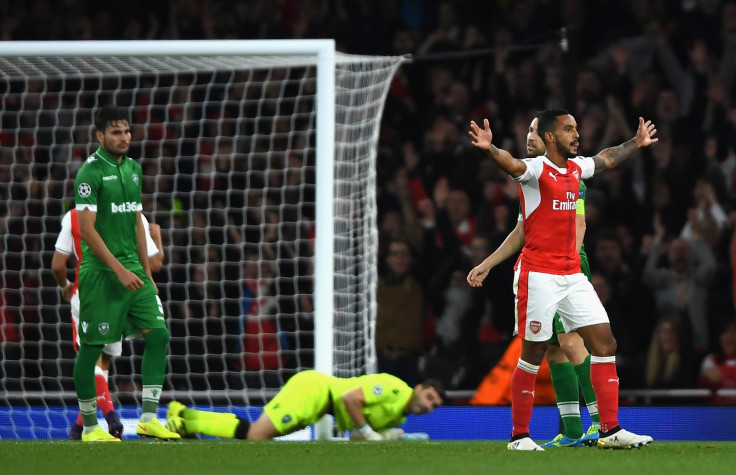 "The past is the past, we need to obviously focus on now. We can't be looking too far ahead at this moment in time, as a squad we'll be concentrating now on recovery and then on Saturday - Middlesbrough. When we cross that bridge, hopefully we'll come to it, it's going to be interesting. We've still got a lot to do," he added.
"We've still got a few games left, away games and tough away games as well, but who knows. We would obviously like to be in that strong position of finishing top, but you know, we need to keep performing to reach that goal."