Is there a point in IoT? Couple watch helplessly from their phone as thieves break into their home
Firefighter and wife remotely watch burglars rob their home from their IoT-enabled security camera.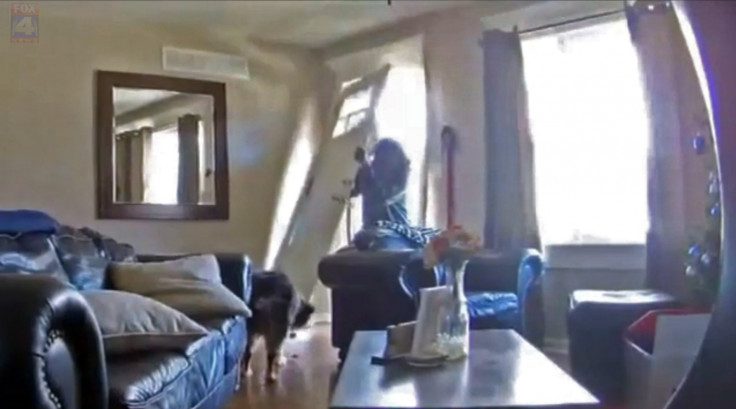 It's a nightmare situation to come back home and find that your property has been burgled. But here's something even worse – having to watch the crime take place live on your smartphone app and not being able to change the outcome.
Firefighter Ryan Koehler and his wife Kelsey in Kansas City were out for the day on New Year's Eve 2016 when they received an SMS text message telling them that there was movement detected in their home.
The couple had an Internet of Things (IoT)-enabled smart security camera system installed in their living room. This was programmed to automatically detect motion and record video footage, which is sent to the cloud from which it can be streamed via a mobile app.
And that's exactly what happened with the Koehlers. They received the text message and opened the mobile app to see two men kick down their front door. Unaware that they were being filmed, the two suspects walk through the home and are heard discussing how to rip a flatscreen TV off the living room wall.
They succeed in doing so, and then walk through other rooms to grab other electronic items before hastily leaving.
"I was like, 'Oh, it's just the dog walking around'. That's when I saw them kick in the door. I literally just started shaking," Kelsey Koehler told local Missouri TV channel Fox 4 News.
Being IoT-enabled didn't really help
While the technology is designed to help prevent and solve crime, unfortunately the incident happened so quickly that all the couple could do was sit and watch in horror. They made a police report, but no one has yet been arrested, although local police believe that the two men are responsible for targeting other homes in the same neighbourhood.
Police reviewed the video footage from the beginning and saw how the burglars made their move. The video shows that the two suspects began their burglary attempts by going straight up to a front door in broad daylight and then ringing the bell.
In the video, the Koehlers' dog jumps up on to an armchair to try to see who is at the door through the window, after which the door is kicked down. The Koehlers say that their dog has been traumatised by the experience and that they no longer feel safe in their home.
"It's nerve-wracking. Kind of makes you sick to your stomach. When my wife comes home she checks every door, looks under the bed makes sure no one's here," said Ryan Koehler. "It just makes you angry. It's karma. It's gonna catch up to you. Eventually you're gonna knock the door down, and somebody's gonna be waiting behind that door."
While the suspects' faces are not entirely clear from the footage, their clothing, height, mannerisms and other physical features can be seen. Police are appealing for witnesses to come forward, especially if the suspects appear familiar to them.
© Copyright IBTimes 2023. All rights reserved.