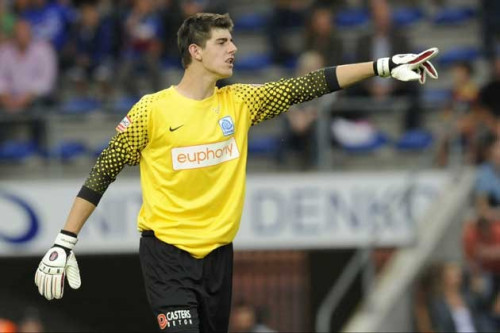 Thibaut Courtois says he doesn't want to return to Chelsea unless he can be guaranteed game time for the side with the 21 year old starring at Atletico Madrid.
Atletico are currently in the mix for the La Liga title and sit equal on points with table leaders Barcelona. Courtois has served to be an important part of the line-up but should Chelsea ask for him to be returned at the end of the season his time on the pitch could suddenly be considerably less frequent.
Current number one Petr Cech is 31 years of age and doesn't look likely to be slowing down any time soon with the Czech international helping the Blues to Champions League glory and the Europa League in recent seasons while the side currently mount a serious challenge for the title.
And as rumours swell that Courtois might finally be ready to make a permanent return to Stamford Bridge three years after signing for the club he insists that he wants to do so under the proviso that he is handed playing time.
"I'm 21 but I have been a starter for four years, with almost 40 games a year," he told Catalan radio. "I can't imagine being there without playing.
"If I return my hope is to play, otherwise it is necessary to find me a solution. They have a very good goalkeeper and it is a decision that we will have to take.
"I have not spoken with Mourinho and I think it will not happen before the end of the season.
"It's possible that Mourinho wants me to return to compete with Petr Cech. I'm not afraid of that, I want to be number 1. If I play poorly, they can remove me from the team."
Courtois was purchased by Chelsea in 2011 on the back of some brilliant performances for Belgian side Genk. He was immediately loaned out to Atletico and has been with the club ever since with his home side clearly seeing the youngster as a prospective star.