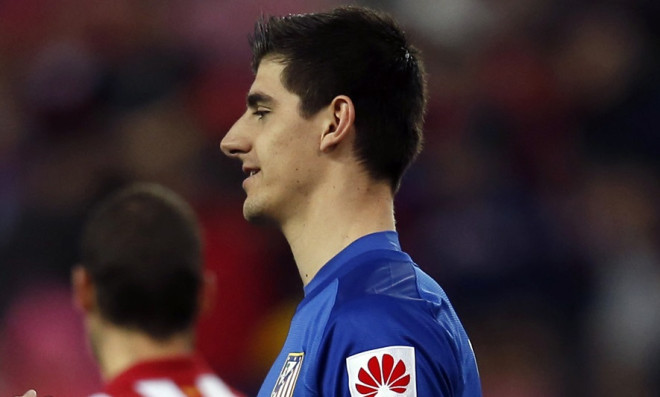 Atletico Madrid's on-loan goalkeeper Thibaut Courtois believes Chelsea should be considered favourites for the Champions League tie with Atletico Madrid.
The 21-year-old is currently enjoying his third season at the Vicente Calderon Stadium where he has built a reputation as one of the finest shot stoppers in Europe, even though he is owned by the Blues.
Reports suggested Courtois would only be able to play if Atletico paid Chelsea a substantial sum - something the club had said they were unable to do - until Uefa released a statement saying any such contract clause would be invalid, allowing the Belgian to play.
The Belgium international has admitted his relief being allowed to play against parent club Chelsea, saying: "[I was] very relieved," he told FIFA's website.
"For me, the fact that we've drawn Chelsea, like we did in the European Super Cup [in 2012, when Atletico won 4-1], is special, because even though I'm at Atleti, Chelsea are my club too. It's better not to think about it too much though and play like I always do, because if I start thinking, 'Oh, I'd better be careful', then I'll end up playing poorly.
"I want to win trophies here and I'll be an Atleti supporter for these two games, but at all other times I'm a Chelsea fan too. I hope they win the Premier League, just not these two [Champions League] matches. I really hope we can reach the final as we're so close. They're the favourites, but [beaten quarter-final opponents] Barca were too."
Atletico are La Liga's current leaders, topping the table from Barcelona by four points with four games left, with Real Madrid also still in the hunt just behind and with a game in hand – with only four games left.
Courtois has already lifted the Europa League, UEFA Super Cup and the Copa del Rey in his three seasons on loan in Madrid, and admits he never expected so much success when he first made the move.
"I didn't expect it, no. I remember playing my first game in the Belgian league just before turning 17 and dreaming of having a good career over there, but I didn't imagine playing for a big club or winning trophies like these.
"And now we're not far away from the most important one of them all, the Champions League. We've got the Liga title close too which, because of Barcelona and [Real] Madrid, you never think you'll get the chance to win. They've got better individuals but we're a very good team and that's important, because you don't need to rely on any one player to win the championship.
"It's going to be hard to repeat all this though. We're having a huge season and, now we've got this far, we've got to try and take advantage. It'll be tough to take if it ends without us winning anything, but it won't be for lack of trying."
Diego Simeone not only has restored the glory days at Atletico, winning a string of major trophies and hauled Atletico back into the Champions League – something they had not achieved since the 2009/10 season - but the coach also brought the best out of several players including Courtois.
When asked about the key to Atletico's success, Courtois said: "So much of this success is down to Simeone because he's the man who's guided us this far. From the first time he spoke to us when he was appointed, he told us he had a very clear idea about how he wanted things to be done and how he wanted us to play.
"That clarity has been key. You might be out for five weeks but when you come back you know exactly what you have to do, because the way we set ourselves out doesn't change. We know what each player's role is."
The Belgian has already faced the Blues before back in 2012 when Atletico beat Chelsea 3-0 in the Super Cup in 2012 – and in these semi-finals, he seeks to guide his club towards another major honour.