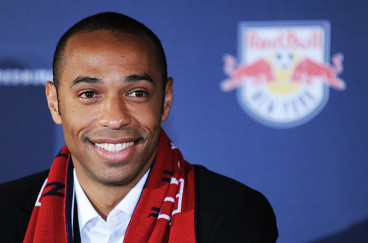 Arsenal favourite Thierry Henry says Raheem Sterling must respect his current club Liverpool as rumours concerning a likely departure from Anfield continue to gather pace.
Sterling is out of contract next summer and has been at the centre of growing speculation over his future after confirming during a interview with BBC Sport in April he had turned down an extension to his contract believed to be worth about £100,000 a week.
Although the relatively inexperienced 20-year-old said he was not motivated by a desire to simply earn more money, it prompted a host of links to other clubs including Premier League rivals Arsenal, Manchester City and Chelsea as well as European giants Bayern Munich, Real Madrid and Paris Saint-Germain.
The situation was back in the headlines again when reports emerged suggesting he was set to inform Liverpool and chief executive Ian Ayre of his desire to leave this summer.
And as his agent insisted the rumours had been blown out of proportion, Arsenal legend, now pundit, Henry waded in with what appeared to be strong criticism of how the affair has been handled by drawing on his own experience of transfer talk.
"I think we all know he's been receiving some bad advice. You can't go out there and talk about your contract in the press. You have to respect your fans, respect the club that you play for," Henry told Sky Sports.
"If you want to leave Liverpool or not, when you make the decision about leaving or staying, then do it. Don't discuss yourself in the paper. I went through the same thing. When I was young I had a problem with Real Madrid and Monaco because some guys that were around me were putting stuff in my head.
"I lost my football, mentally I wasn't there anymore, I wasn't concentrating on anything, and therefore it looked like I was going to have a good career and people were questioning me when I hadn't even started my career.
"So it's the same with Raheem Sterling. To an extent you can blame the agent, adviser, whatever you want to call them now but you need to be a man about it also, you need to be able to say, 'Enough, you're destroying my life, you're destroying my career."
While Henry believes the player has been led astray of late, he did admit that he would be excited at the prospect of Sterling joining Arsenal next term as they seek to mount their own title bid.
"He's a great product for Liverpool and he's going to be a great product for England," he continued. "I would be more than happy to see him play for Arsenal but he's still a Liverpool player. We all know he's a Londoner, and we know Arsene Wenger is interested in him."
Arsenal certainly have history when it comes to attempting to prise key players away from Liverpool. In 2013, the club made a flawed attempt to trigger Luis Suarez's rather confusing buyout clause with a bid of just over £40m.
If indeed Wenger, who has been typically coy on the saga to date, is serious regarding a deal for Sterling, then he is likely to have to move fast with the latest gossip suggesting that Manchester United have made an audacious approach for his services despite their historically intense rivalry with Liverpool.