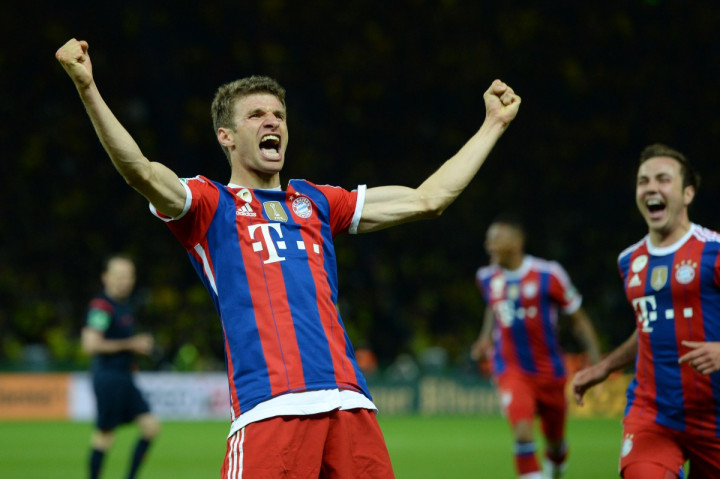 Bayern Munich star Thomas Muller has rubbished rumours linking him with a move to Manchester United, claiming he has always been happy at the Bundesliga club.
The 2014 World Cup winning striker was subject to a bid from United in the summer and had revealed that he had 'astronimical offers' from certain European clubs.
The German international maintains that he was aware of the interest during the transfer window, but admits that the decision to stay at Bayern was an easy one. Muller recently extended his contract with the Bavarian giants till the summer of 2019.
"I know there was interest, but Man United were interested in a lot of players this summer," Muller said, as quoted by Goal.
"It never really got anywhere because I had just renewed my contract [until 2019], and Bayern were clear that they saw my future here. The decision for me was an easy one," the Bayern midfielder added.
Muller also spoke of Bayern's stuttering form at the start of the season, where the Bundesliga champions have just managed seven points in their opening three matches. The striker has dismissed suggestions sighting the World Cup rigours as the reason behind the slow start.
"Everyone wants to link everything to the World Cup in the early weeks of the season. You play badly: you've fallen into a hole because of the World Cup. You play well: it's the World Cup feelgood factor," the World Cup winner explained.
"Physically, it shouldn't be a problem at all, especially for us younger guys. Maybe in October, November, it'll become difficult, mentally. But you can't think that way when you play at Bayern. You mustn't.
"At Bayern, the journey is always headed for titles. So far, the travel agency hasn't called to say there'll be complications. No rebooking, just yet," Muller concluded.