'Not My President's Day' rallies were held across the US, including in Trump's hometown of New York. According to Reuters, protesters filled at least eight city blocks as they chanted, "He cheats, he lies, open up your eyes" near Trump International Hotel.
"I think he's got a mean personality," 78-year-old marcher Edith Cresmer told Reuters. "But the worst thing about him is how he incites peoples' fears and pits them against each other."
Another protester, 22-year-old Sayief Leshaw, told NBC News: "I'm really concerned for where our country is headed. We've sold out to corporate interests, and Donald Trump's policies are downright offensive."
Organisers told reporters that they were opposed to Trump's agenda, including his plans to build a wall on the US-Mexico border and his travel ban against refugees and immigrants from seven predominately Muslim nations. According to NBC News, demonstrators carried signs that read 'Not My President' and 'Resist', while chanting "No Ban, No Wall".
"Donald Trump is literally our president, but figuratively, he has attacked every value New Yorkers embody and does not represent our interests," organisers wrote on Facebook. It was the fifth day in a row of anti-Trump protests in New York City.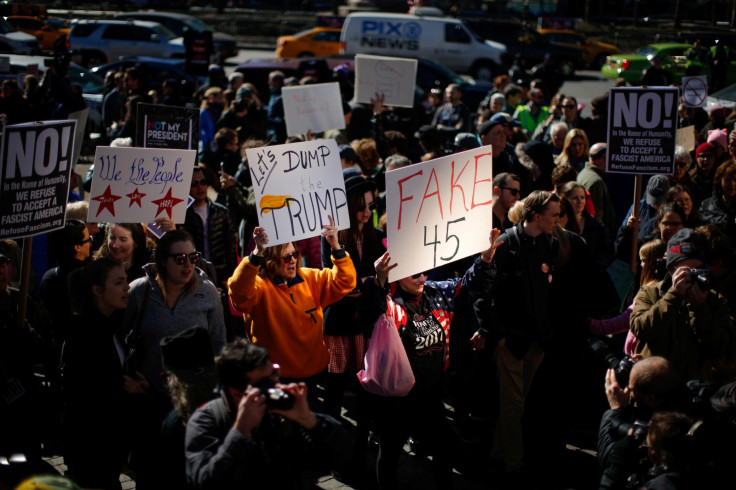 Similar scenes were seen in Los Angeles, where the idea for the Presidents Day protests originated, and in Trump's new home in Washington DC.
Hundreds filled DuPont Circle in the capital, where protesters took pot shots at Trump's alleged close relationship to Russian President Vladimir Putin. Demonstrators in DC held signs that read 'Happy President's Day President Putin' and 'My President? Nyet'.
Authorities cordoned off streets as demonstrators marched to the White House and chanted, "Shame! Shame!" Twenty-four-year-old Morgan Mullins told NBC News, "We have been doing this every weekend. We'll keep doing this as long as we have to."
Gayle Fleming, 69, noted that the new president may have sparked a level of political activism not seen since the Vietnam War. "What I'm seeing, especially being as old as I am, is the amazing interest of people who have never been activist," she said. "This does inspire us. It's the silver lining in the middle of all this horrible stuff."
Protesters in London held their own anti-Trump protest outside of Westminster as Parliament debated a petition demanding Trump be disinvited from a state visit to the UK.