Thousands of green-minded constituents travelled from across the UK to press their MPs over climate change on 17 June.
The lobbying event, organised by the Climate Coalition, gave people the chance to meet their representatives in the House of Commons face-to-face and quiz them about issues like CO2 emissions and nuclear power.
The campaign, made up of charities and pressure groups, pushed MPs to create a cross-party low-carbon infrastructure plan, which would cover energy, transport and the "restoration of nature".
Andrew Triggs Hodge, a double Olympic gold medallist in rowing who attended the event, said: "Climate change threatens many aspects of human life – and changing water patterns is one of the main risks.
"In London, the population depends on a relatively small river basin, the Thames. If the stress to the Thames Basin becomes intolerable, it will be hard for my sport to continue in the UK. The risk is too great to ignore. That's why I'm speaking up for the love of rowing."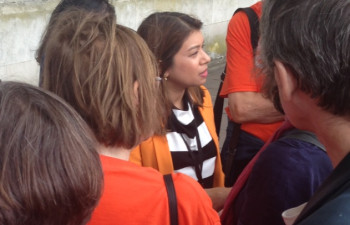 The Metropolitan Police, as part of its policy around political events, did not give out any attendance figures but Climate Coalition claimed more than 9,000 people took part.
Labour's Tulip Siddiq was one of the many politicians who took the short trip across the Westminster Bridge to talk to some of her constituents on the South Bank of the Thames.
IBTimes UK listened in as the newly elected Hampstead and Kilburn MP was quizzed.
Siddiq explained she could keep asking oral questions in the Commons to press the government on climate change issues and claimed David Cameron's administration was "worried" about the topic.
The north London residents were pleased to hear the former Camden councillor had nominated left-wing Jeremy Corbyn in Labour's leadership race after a constituent raised the issue of nuclear power.
But Siddiq went on to explain that she is supporting Andy Burnham, the former health secretary and frontrunner in the race. She said: "I nominated Jeremy Corbyn because I wanted to widen the debate.
"Unfortunately, I actually committed to voting for Andy Burnham but I voted for Corbyn to get him on the ballot. He will actually push the party towards some of the commitments that we want, I thought, in terms of the discussion."
Siddiq told the voters she wants Labour to host a leadership hustings in her constituency, at the JW3 Jewish Community Centre, where the residents could grill the candidates on climate change-related issues.