Activists stage climate change protest in Tate Modern's Turbine Hall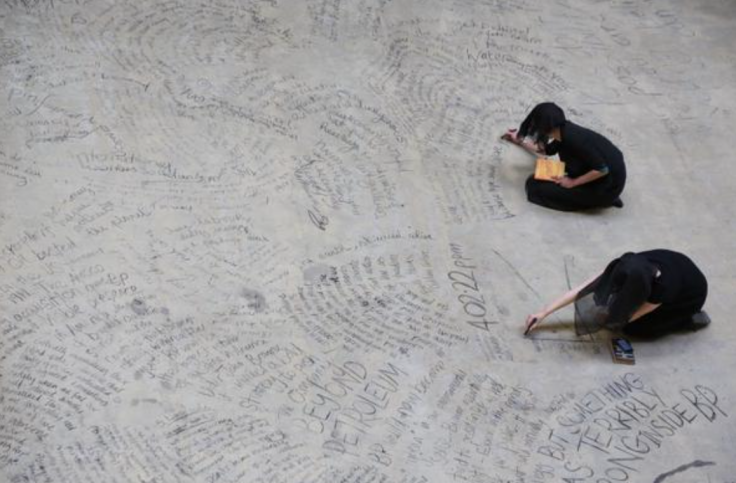 Climate change activists are staging a protest at the Tate Modern's turbine hall on Saturday (13 June), by writing excerpts about global warming on the floor of the gallery.
The all-night performance critiques BP's sponsorship of the Tate, and aims to cover the hall's 152m floor with thousands of words about the dangers of climate change and fossil fuels.
The activists say the artwork will take 25 hours to complete, if they are allowed to remain in the gallery after closing time, and is timed to concede with a full tide cycle.
The protest is being led by an arts-activism collective called Liberate Tate, which has staged several protests at the Tate in the past – though Saturday's performance is the first to ignore the opening hours for the gallery, which shuts at 10pm.
"Oil companies like BP are trying to carry on pretending its business as usual, but time is running out to act on climate change. We're already seeing the impact of climate change globally, and companies, foundations and institutions around the world are turning away from the fossil fuel industry that's driving us to climate disaster," protester Yasmin De Silva told the Guardian.
The words and phrases used in the project have been taken from a range of media, including social activist and author Naomi Klein's book This Changes Everything: Capitalism vs the Climate, and the latest UN climate science report.
Liberate Tate began staging protests against the BP funding to the Tate in 2010. Group member Glen Tarman said they were stepping up their protest as the sponsorship deal is due to expire in 2016.
"Art museums are places where we make sense of the world. We make meaning from our lives and they contain what we most value. We shouldn't be complicit in climate change just because we appreciate great art," he said.
In January, a freedom of information (FOI) request revealed that the BP support amounts to an average of £224,000 a year.
According to figures provided by Platform, an anti-oil industry campaign group which made the FOI request, the BP funding is a mere 0.3% of the Tate's 2013-14 operating budget, leading some to question why the gallery has continued to accept the funding.
© Copyright IBTimes 2023. All rights reserved.