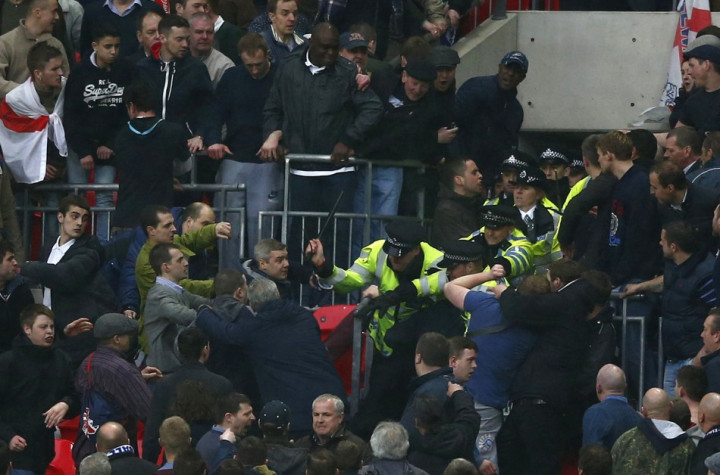 Three people have been arrested in morning raids in connection with the violence seen at Millwall's FA Cup semi-final game against Wigan.
The men, aged 22, 27 and 21, were arrested after police appealed for information following the clashes between fans at the game on 13 April.
The latest arrests bring the total number to 26, three of whom have been charged. The violent scenes during the match, which Wigan went on to win 2-0, took place in the stands occupied by Millwall fans at Wembley Stadium.
Det chief insp Andy Barnes said: "Large scale violence and disorder at football matches is completely unacceptable. People attending matches expect to be able to do so in a safe and friendly environment.
"I would like to thank the media for their help so far. We have had an excellent response from the public, who have identified people in nine of the 10 images already released. Some have since handed themselves in to police, and to date, we have arrested 26 people. Three have been charged.
"We continue to appeal to the public to help identify those responsible.
"The investigation team is working through many more calls and CCTV to identify all those involved in the disorder. We expect to make further arrests.
"Our message is clear. Violence at football is unacceptable. If you were involved in the violence come forward and speak with us. We will pursue all those responsible."
Ayse Smith, a member of the Millwall Supporters' Committee, previously told IBTimes UK the disorder erupted after a drunken man fell into a small child.