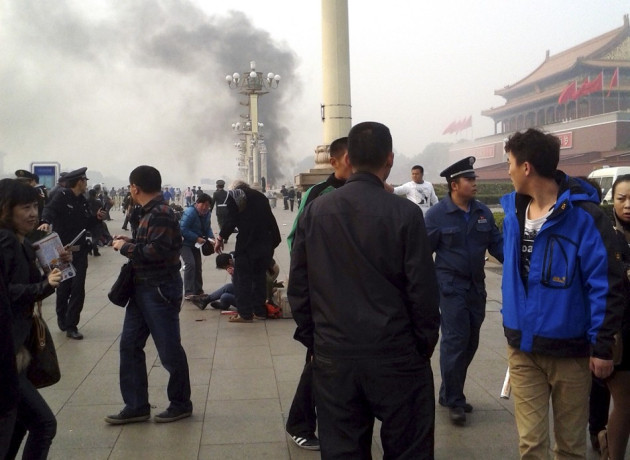 Chinese police are investigating two men from the restive Xinjiang region near the Central Asian border for the suspected suicide attack that killed five people in a car crash on Beijing's Tiananmen Square.
At least 38 people were injured after a Jeep ploughed into a crowd of tourists and burst into flames, killing two tourists and three people in the car.
After the incident, the vast square near the Forbidden City was temporarily closed and security measures came into effect. The explosion sent a smoke billowing near a giant portrait of Mao Zedong, the communist China's founder.
A source with direct knowledge of the issue told Reuters that the incident looked like an intentional suicide attack. Beijing police issued a notice to four local hotels naming two men from Pishan and Shanshan counties, in the Xinjiang region. The suspects appear to be ethnic Uighurs, who are Turkic-speaking Muslims from Xinjiang.
Being the symbolic centre of the Chinese state, Tiananmen has always been the site of pro-democracy protests. Authorities are always alerted to prevent them, especially around the 4 June anniversary of the brutal clampdown on student-led demonstrations in 1989.
Pishan county is one of the poorest region in China. In 2011, clashes between Uighurs and border police with Pakistan led to the death of eight people.
Thirty-five people died in Shashan county during clashes between locals and police at a paramilitary base, government offices and a construction site.
Beijing has accused Uighur separatists of plotting to establish an independent state called East Turkestan. It is the first time that the unrest in the Central Asian border has spilled into the capital.
Earlier this year, terrorism experts in China speculated that Syrian opposition forces were training extremists from Xinjiang to carry out attacks in China.
"They have been known to carry out attacks outside of Xinjiang," said Yang Shu, a terrorism expert at China's Lanzhou University, according to Reuters.
"There have also been reports that East Turkestan elements have received training in Syria, so I would say the possibility does exist of a Xinjiang connection," he added.