Jamphel Yeshi: 'People of the World, Stand Up for Tibet' says Final Letter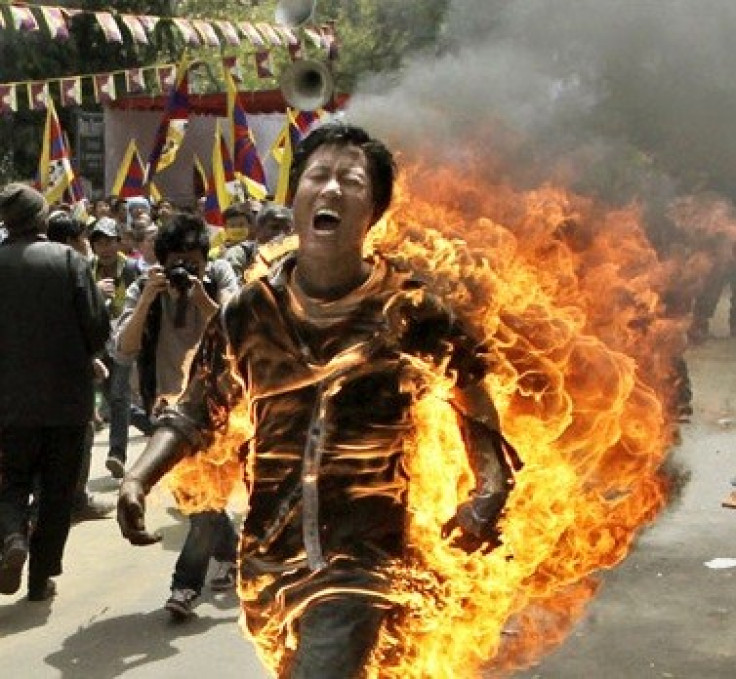 Tibetan activist and exile Jamphel Yeshi, 27, runs through the streets on fire in protest of the arrival of China's president, Hu Jintao. Jintao is visiting India this week to meet with the BRICS nations.
Reuters
The Tibetan man who set himself on fire to protest against a visit by China's president left a letter to his fellow Tibetans calling on them to continue fighting for their rights.
Jamphel Yeshi, 27, set himself on fire to protest against Hu Jintao's visit to New Delhi, India.
The young man died of his burns on 28 March but left a letter calling on Tibetan activists not to give up their fight.
Describing his dream of a united and independent Tibet Yeshi wrote: "Long Live His Holiness the Dalai Lama, who is the shining example of world peace. We must strive to ensure return of His Holiness to Tibet."
The young men however warned Tibetans they should be ready to sacrifice their life .
"At a time when we are making our final move toward our goal: If you have money, it is the time to spend it. If you are educated it is the time to produce results. If you have control over your life, I think the day has come to sacrifice your life," the letter continues.
"The fact that Tibetan people are setting themselves on fire in this 21st century is to let the world know about their suffering.
"People of the world, stand up for Tibet. Tibet belongs to Tibetans. Victory to Tibet!" it concluded.
Jamphel Yeshi: Final Letter to the World on Tibet Struggle [Full Text]
The letter was released by activists and translated on the website Burning Tibet.
Its authenticity could not be independently verified.
The document was posted as police in New Delhi is keeping tight watch on potential Tibetans protesters and several activists have now been arrested.
The police have also sealed areas populated by Tibetans the Hindustan Times reported.
Beijing has blamed the Tibetan Buddhist spiritual leader the Dalai Lama, for inciting protesters to set themselves on fire, and said such immolations were a form of terrorism.
© Copyright IBTimes 2023. All rights reserved.