"We're not your enemy, we're not your threat but you're presenting an unacceptable threat to us and we have to respond," US Secretary of State Rex Tillerson said of North Korea amid heightened tensions between the two nations after Pyongyang tested another intercontinental ballistic missile (ICBM) on 28 July, claiming the projectile can hit all of America.
While Tillerson has insisted that Washington does not want a regime collapse or change in North Korea, a Republican Senator has revealed that US President Donald Trump is ready for a war with the hermit kingdom.
"If there's going to be a war to stop [North Korea], it will be over there. If thousands die, they're going to die over there. They're not going to die here. And he [Mr Trump] has told me that to my face," Republican Senator Lindsey Graham said of his conversations with the president in a recent interview with NBC's Today programme.
"He has told me that. I believe him," the Senator added, according to the BBC.
On the contrary, Tillerson speaking to reporters at the State Department on Tuesday (1 August) said: "We do not seek a regime change, we do not seek the collapse of the regime, we do not seek an accelerated reunification of the peninsula, we do not seek an excuse to send our military north of the 38th parallel." The 38th parallel is the border between North and South Korea.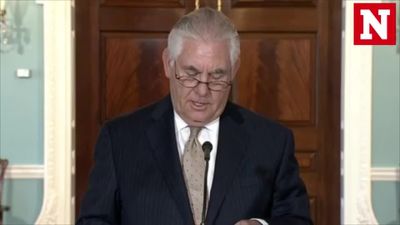 There has been an escalation in tensions between Washington and Pyongyang in the past few months as the Kim Jong-un regime has intensified its nuclear programme conducting frequent missile tests.
The North Korean dictator had threatened Trump during his New Year's speech that his country was on the verge of developing a long-range ICBM capable of hitting the US mainland. Trump had then tweeted: "It won't happen".
However, following the latest missile test on 28 July, Kim confirmed that all of the US was in their missile range now. US defence experts have also confirmed that the latest tested missile was capable of reaching the US west coast and beyond.
Infuriated by the recent claims, Trump reportedly criticised China for not doing enough to contain North Korean threats. He had earlier praised Chinese President Xi Jinping for doing his best in dealing with the situation but changed his version lately. In response, Beijing warned the US against issuing such remarks.
Tillerson, however, took a diplomatic approach, saying that "only the North Koreans are to blame for this situation". He has also said that the US believes "China has a special and unique relationship, because of this significant economic activity, to influence the North Korean regime in ways that no one else can".
China is North Korea's biggest trade partner and Trump had been threatening to impose secondary sanctions on Chinese firms doing business with the reclusive state. The US was reported to be putting pressure on India too to cut diplomatic and trade ties with the country. However, India replied saying they have already scaled back trade relations with North Korea except for medicines and food.