US successfully tests Thaad system in Alaska 'against developing missile threats in North Korea'
This was the first time the missile defence system in Alaska intercepted an IRBM.
The US Missile Defense Agency successfully tested a Terminal High Altitude Area Defence (Thaad) system on Tuesday (11 July). The missile defence battery installed in Kodiak, Alaska, shot down a ballistic missile target similar to the one tested by North Korea on 4 July.
The hermit kingdom fired an inter-continental ballistic missile (ICBM) on US Independence Day, calling it a gift for the "American b******s).
The country claimed that the missile can hit any part of the world, but the US said it was only an intermediate range projectile. The North also claimed that it has miniaturised nuclear warheads that can be mounted on the ICBM.
So far, the US has tested the Alaska Thaad battery 14 times over a period of more than 10 years. All the tests have been successful.
This was the first time the missile defence system intercepted an intermediate-range ballistic missile, US officials said, according to the BBC.
CNN quoted some other US officials as saying that the latest Thaad test was not related to the rising North Korea tensions. The test was reportedly planned a few months ago, but was eventually carried out after the North's ICBM test.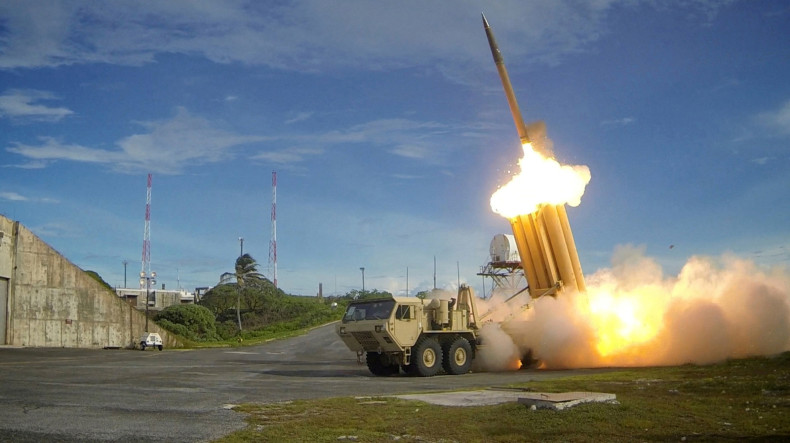 The Thaad test on Tuesday involved hitting a target that was launched from a C-17 aircraft flying north of Hawaii, the missile defence agency said in a statement.
"The successful demonstration of Thaad against an IRBM-range missile threat bolsters the country's defensive capability against developing missile threats in North Korea and other countries," the statement added.
Repeated banned missile tests by the Pyongyang regime prompted the US to urgently deploy a Thaad system in South Korea. The decision was taken by the previous White House and Seoul administrations in June 2016 following the North's fourth nuclear test in January 2016.
The new governments of both the countries implemented the deal and partially deployed the system despite objections from within South Korea and China. However, the deployment was recently halted pending an environmental assessment of the Thaad installation. The present South Korea President, Moon Jae-in, opposed the Thaad deployment while campaigning and still maintains his country does not need the anti-missile system.