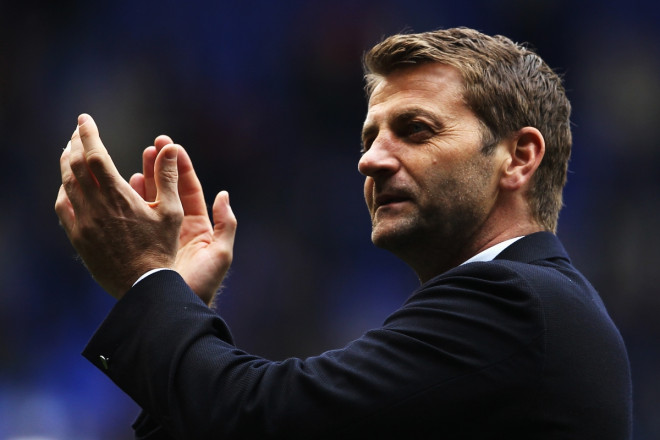 Tim Sherwood regrets taking the manager's job at Tottenham Hotspur and has condemned the club's unrealistic expectations of a top four finish.
The former midfielder took the reins following Andre Villas-Boas' dismissal in December with the club sat seventh in the Premier League but his spell in charge at White Hart Lane would last just five months after he was shown the door last week.
Sherwood's failure to secure Champions League football for next season ultimately cost him his job but the former Spurs boss insists such targets were impractical given the changes the club underwent last summer, particularly the sale of their former talisman Gareth Bale.
"At the beginning of the season the aim was to be in top four and it always is for Tottenham," Sherwood said, speaking on Goals on Sunday.
"But when you actually analyse the season, taking out Gareth Bale with 21 goals, Jermain Defoe with 10 Premier League goals, Clint Dempsey with seven and replacing it with a very good goalscorer in Roberto Soldado who has never played in the competition before and six other players who'd never played in the competition before, realistically the expectations of finishing in the top four was too great.
"To finish on 69 points, just one win short of our record number of points of 72, which we finished with last season, without one of the best players in the world in Gareth Bale, it wasn't a bad season. "
And having signed an 18-month contract late last year, Sherwood admits he would have stayed on in his previous role as technical coordinator of the club's development side had he anticipated the troubles he would face.
"I love the development phase of football and if I knew it was a five month job stepping up I wouldn't have done it. As a manager your head is going to be on the block and it might be a short tenure, and in the end it proved that. I didn't anticipate it would be as short as it actually was. I thought that if I had 18 months there I would definitely take the club forward."