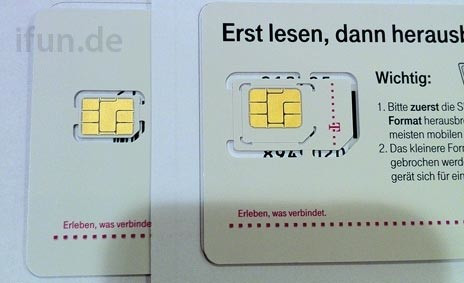 T-Mobile shops in Germany have begun receiving deliveries of nano-SIM cards, reportedly in preparation for the launch of Apple's iPhone 5.
German website iPhone-Ticker.de reports that T-Mobile retailers have the nano-SIM cards, which are even smaller than the micro-SIM that made its debut with the iPhone 4 back in 2010.
Apple is a backer of the nano-SIM design and helped to bring the new cards, which are around two centimetres in length, into production, after the final design was passed earlier this year.
The iPhone 5 is thought to be the first device to use the new design.
Documents supplied with the new SIM cards state that they are to be used for the "latest generation of smartphone" which will be arriving on the market soon. Given that Apple is widely expected to announce the new iPhone on 12 September, the timing of this delivery makes perfect sense.
By using a smaller SIM card, smartphone manufactures have more internal space to allow for heat dissipation, for example, or for installing other components closer together.
Back in July we heard reports that other European mobile carriers were beginning to stockpile nano-SIM cards in preparation for new hardware, suspected to be the iPhone 5.
This forward-planning will hopefully obviate SIM card shortages, which plagued the iPhone 4 launch as networks didn't have enough micro-SIMs to meet customer demand.
Announcement
Apple is expected to be holding a media event on 12 September to announce the new iPhone, which is thought to feature a larger 4in screen, faster processor and a redesigned dock connector port.
The most recent apparent leak to come from rumour mills is a complete redesign of the iconic white headphones that Apple bundles with the iPhone and iPods.
We'll find out soon enough, as invitations to the event will be making their way to journalists' inboxes in the coming days.
Must read: