The ATP Finals in London will mark the final tournament for Toni Nadal as Rafael Nadal's coach after the current world number one's uncle announced earlier in the year that he will step down from his coaching position at the end of the season.
Uncle Toni, as he is popularly known on the ATP Tour, made his decision following the arrival of Carlos Moya before the start of the 2017 campaign, with the former world number one expected to take over the lead role in Nadal's coaching team.
The senior Nadal is the most successful coach in tennis history having taken Nadal, who is also his nephew, to 16 Grand Slam titles which includes an unprecedented 10 French Open championship wins. He has been coaching the 31-year-old since his childhood days and been present for all his triumphs and losses so far.
They have won everything that there is to win – 16 Grand Slams, 30 Masters Series titles and two Olympic gold medals in the singles and doubles events – making it a career Golden Slam. Nadal is only the second men's singles player to do it – with Andre Agassi being the other.
The ATP Finals title is the only one that has evaded the Spaniard, having succumbed in the finals on two occasions in 2010 and 2013 to Roger Federer and Novak Djokovic, respectively. It will certainly be a fitting send-off if Nadal wins the title to wrap up Uncle Toni's illustrious coaching career with a win in London.
The senior Nadal revealed that he will miss coaching his nephew as he has been doing it for over two decades. He will continue training players, but will spend most of his time at the Rafael Nadal Tennis Academy in Mallorca.
"I have been lucky to have had a life in tennis with one of the great performers," Uncle Toni said in an exclusive interview with Spanish publication Marca.
"I'll miss it for sure, but I will also have a great time back in Mallorca. I will also miss training Rafa because we have been doing this for many years. I like training a lot."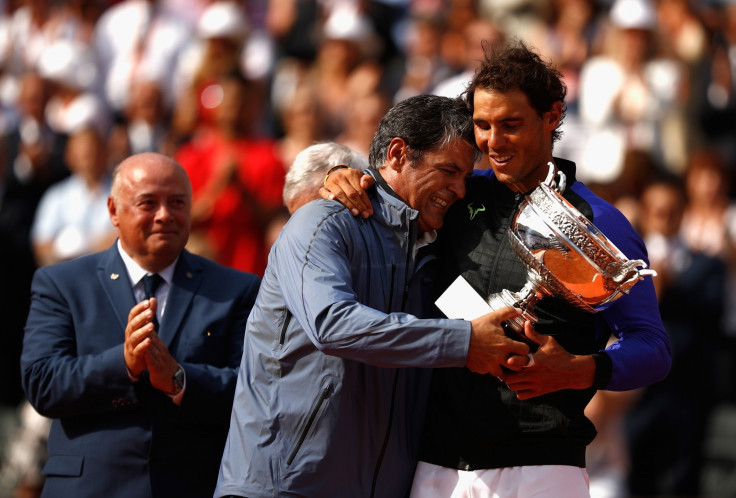 Uncle Toni, meanwhile, labelled Federer the favourite at the upcoming ATP Finals, but is hoping that Nadal can challenge the Swiss ace. The 36-year-old skipped the Paris Masters last month and made it clear that winning in London was one of his priorities this year.
The 16-time men's singles Grand Slam champion is also keen to pick up his first season-ending trophy, but admitted that his chances will be severely diminished if Federer makes the final owing to their record in 2017. Nadal has faced the 36-year-old, the current world number two, on four occasions and is yet to taste victory. Moreover, three of the losses have been in finals – Australian Open, Miami and the Shanghai Masters.
"It is clear [Federer] is the favourite," Uncle Toni admitted. "His level has been very high all year. If Rafa can find his best, then we will see. The surface will also have an impact."