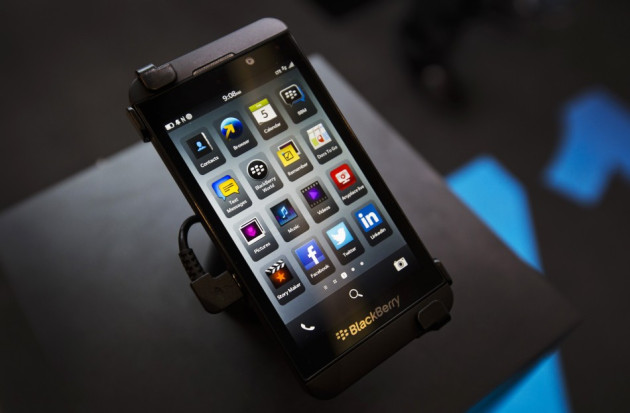 We imagine you're bored of E3 now, right? Yeah, games are rubbish aren't they? Do you know what's better? Apps. We've never heard of a game that will help you find a restaurant or translate what you're typing into Welsh. Apps are the don.
So here are ten great apps for you BlackBerry owners to download this week.
Ultimate History Quiz is a trivia/game app packed with the questions about the old days. The ones on the BlackBerry App World page may sound a bit simple (Who was the first man on the Moon? What's the tallest mountain on Earth?) but play on and they get harder and harder and harder. We hope you like obscure British Monarchs...
It's also a kind of time trial, since the faster you answer a question, the more points you get. You can then stack up your score against other player from around the world via online leaderboards.
At more than £20, this is one only for the real enthusiasts. But if you're very into F1, get the Timing App, because it'll change the way you watch your favourite sport.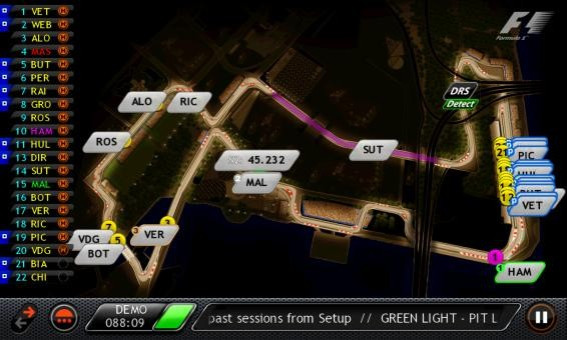 As well as giving insight into each driver's positions, lap times, scheduled pit-stops and so on, the Timing App lets you jump between camera feeds during live broadcasts, meaning you can switch perspectives to focus on a specific driver as they make their way around the track. It also has an interactive map of each live race so you can see the position of every racer at the same time.
There are plenty of apps like Vouchercloud, but we rate this one over the others thanks to its interface. Vouchercloud uses your GPS location to find out deals and discounts at local stores and restaurants, as per, but it has a much tidier display: It's not cluttered with lots of ads and squashed together information.
This is a penalty shootout game where you can play as either the striker or the goalie. It looks a bit rough (graphically, we're reminded of World Cup 98 from the N64) but beneath the shoddy visuals is a tricky game, since you have to pick where you're going to kick the ball with your foot and then define how much power and spin you're going to put on it.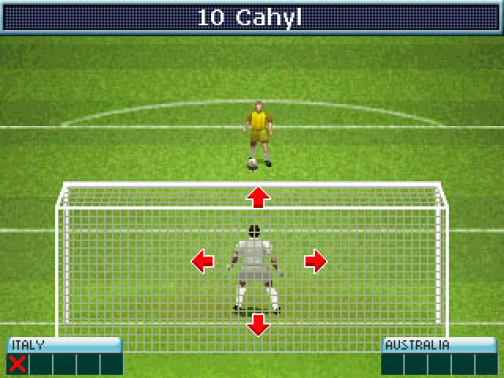 Playing goalkeeper is a bit less fussy, since you just have to guess where to dive and tap an on-screen arrow, but both modes are fun. You can either play friendlies or enter a championship where, of course, if you lose, it's game over.
C'est une très bonne application, aller le chercher! We just wrote that using Navita Translator, a great free translation app that has the added bonus on letting you post translations instantly to Facebook or Twitter, or send them via SMS directly from the app's interface.
It has more than 60 languages including, as you can see, French and can say phrases back to you, so you can improve your pronunciation.
Urbanspoon is for when you really have no idea what to eat. Do you want Italian? Chinese? Pie and chips? Who can say? Urbanspoon works like a slot machine.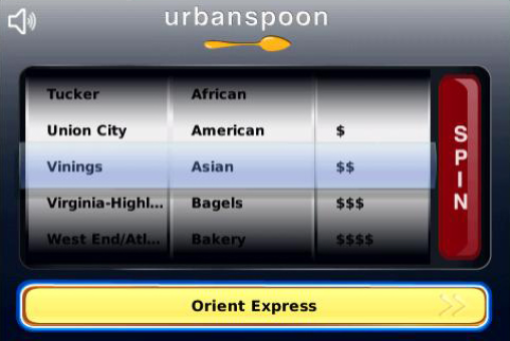 It finds your GPS location, compiles all the nearby restaurants together then you pull the level, spin the dials and see what comes up. Don't like it? Spin again, you're bound to land on something your indecisive stomach agrees on sooner or later.
This is an instant messenger client for BlackBerry, similar to eBuddy Messenger, which you might have used on the iPhone. It lets you access and use IM services such as Facebook, AIM and Skype all from one app and saves conversations so you can go over them later.
It also gives notifications when new messages come through, supports group chats in Skype and lets you send pictures. You can pick different sound notifications for each messenger service as well, so you know when you've received something and on what.
This is the full, official Kindle suite for BlackBerry, giving you access to the entire Kindle eBooks catalogue as well as the built-in dictionary that lets you instantly look up definitions.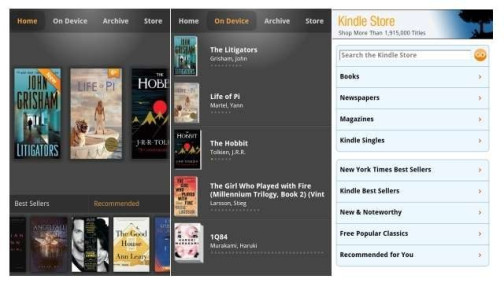 It also syncs with the Kindle app that you might be using on other platforms, so if you've reading the night before on your Kindle, laptop, phone or tablet and you want to pick up again on your BlackBerry, it can do that, loading the book from wherever you last left it. Amazon still has an impressive range of free books on offer as well, including Sherlock Holmes and Pride and Prejudice.
AccuWeather updates every hour with a new forecast based on your location and you can also customise it to provide the information you want. If, for example, you're a fisherman and need to know about wind speed and direction, you can find that out and set up notifications for when it changes.
You can also view satellite maps of incoming weather fronts and set the app to integrate a five day forecast into your Blackberry calendar. Considering everything it does, it's amazing AccuWeather is free. This is a vital utility app.
And lastly this week, ReadItNow, which is a bit like a simplified version of Pocket, in that it lets you store online articles and pages to be viewed offline later. It's handy for say living in London, when your journey home takes you undeground where there's naturally no internet signal.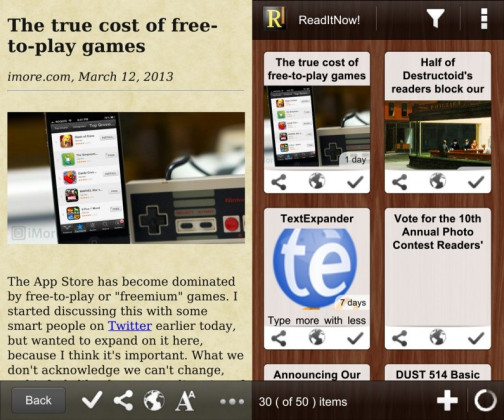 Viewing pages offline in ReadItNow also strips them of video adverts, pop-ups and full page ads, so you might find yourself using the app even if you do have Wi-Fi available.