The spotlight was squarely on football referees in 2012, after a number of mistakes in key Premier League fixtures.
English top flight football claims it is the best in the world. However, any such claim should include high-quality officiating as well as football. And, unfortunately, the Premier League does not have the former. In fact, as each season passes, the quality of officiating seems only to be deteriorating.
And it isn't just the referee called into focus. The assistants have been as guilty of horrendous decisions on several occasions this season and every time there is a wrongly disallowed goal or a poor offside call or, worse still, unpunished diving or questionable penalty kicks, the calls for goal line technology and decision review systems make a strong case.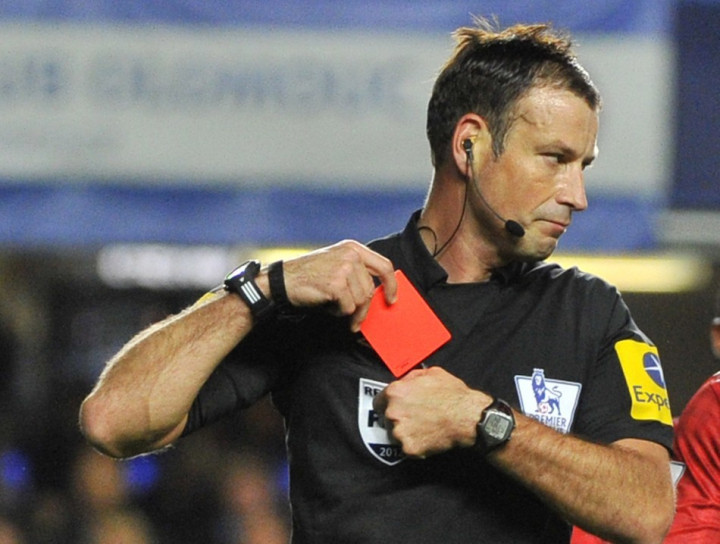 As 2012 winds to a close, IBTimes UK takes a look back at what we believe were five of the worst refereeing blunders in the 2012/13 campaign so far. We invite you to re-live these controversial moments...
Mike Jones, Everton v Newcastle (17 September, 2-2)
Substitute Victor Anichebe's header appeared to cross the Magpies' goal line... in fact, it went almost a yard inside. However, the linesman failed to notice the goal and Jones allowed play to continue. It is understandable that some calls are difficult to make but, on this occasion, Toffees' boss David Moyes was justifiably furious after the poor officiating at Goodison Park.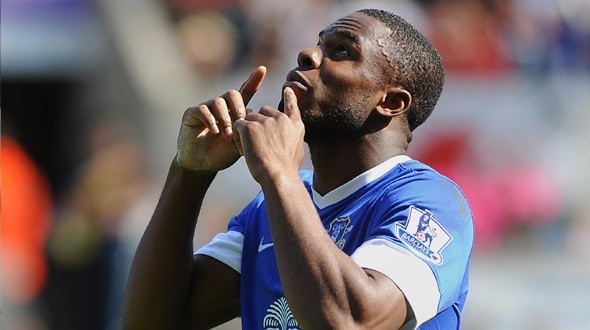 And that wasn't all. Jones made an equally poor call at the other end. French midfielder Hatem Ben Arfa picks up a loose ball and triggers a counter-attack. He survives a strong tackle from Everton's Steven Pienaar and knocks the ball past the last Toffees' defender. He is clean through on Tim Howard's goal and has two team mates in support.
Jones blows the whistle!
Whether or not Pienaar's tackle was a foul, Jones really should have allowed play to continue, particularly since the advantage was definitely with the Magpies. And if he was trying to make up for the error by the linesman at the other end, he should not have been.
Balancing one bad decision with another is not refereeing, by any means.
Neil Swarbrick, Tottenham Hotspur v Aston Villa (7 October, 2-0)
Gareth Bale has a real talent for diving; check out these videos here and here. And the Welshman is arguably English top flight football's most infamous actor, seeing off competition from the likes of Liverpool's Luis Suarez and Manchester United's Ashley Young.
The Spurs wide man came up with a ridiculous dive against Aston Villa earlier this season. The 23 year old received neither a free kick nor a penalty, particularly since the dive visible from Mars. And worse still, Bale's dive was calculated to send Villa goal keeper Brad Guzan off with a red card.
However, neither the referee nor the linesman - standing six yards away - punished him for the antic. Surely, if it was not a foul, then it was a dive... and the rules do state players must be cautioned for simulation.
Mark Clattenburg, Stoke City v Manchester City (15 September, 1-1)
Stoke City secured a point at home against champions Manchester City in this clash, thanks to an outrageous opening goal from former Liverpool striker Peter Crouch, aka the Peter Crouch Slam Dunk.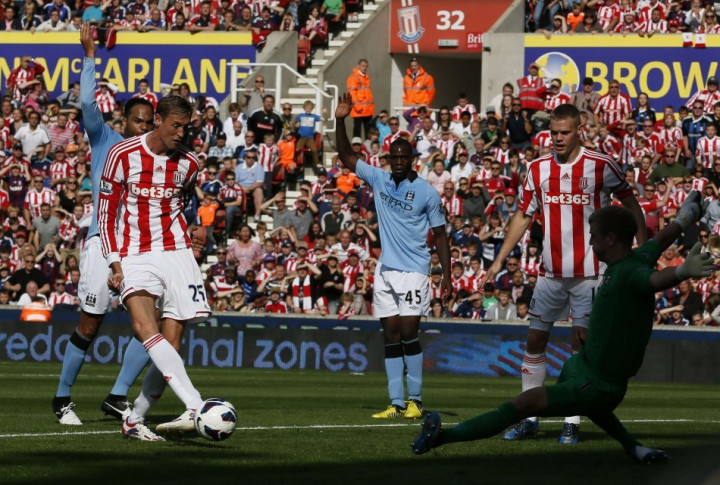 The 6ft 7in striker handled the ball three times, at least twice purposely, before poking the ball past Joe Hart in the City goal. However, the officials, including referee Clattenburg, failed to spot anything illegal at all. Strange!
Predictably, City manager Roberto Mancini was furious after the game and sarcastically commented his team was meant to play Premier League football and not in the NBA. It was hard to disagree with the Italian.
Incidentally, on the subject of fair play, Stoke manager Tony Pulis played the innocent when faced with the theatrics of Uruguayan Suarez, in October's Premier League draw at Anfield. The Northern Irishman even called for the FA to review evidence and take retrospective action.
Mark Clattenburg, Chelsea v Manchester United (28 November, 2-3)
This match was a classic example of how bad refereeing can turn a game on its head. Chelsea came back from 0-2 down to level the scores and looked to be in complete control... till Serbian defender Branislav Ivanovic was sent off for denying Young a goal scoring opportunity.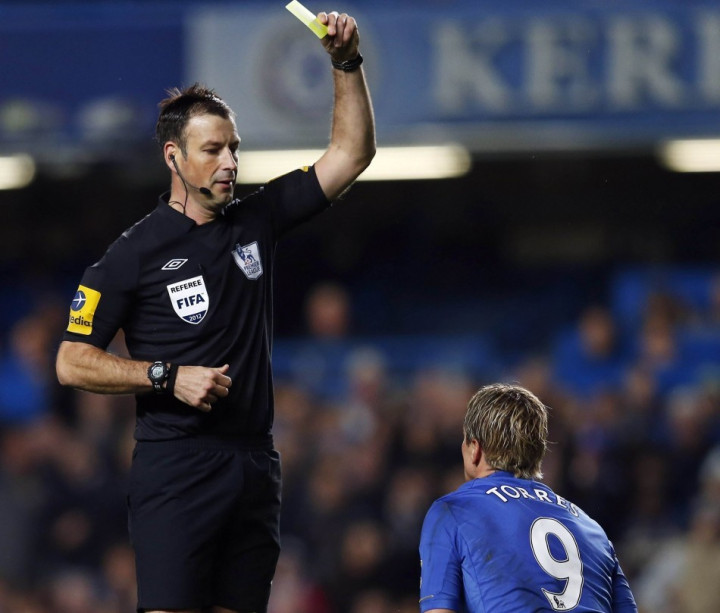 The real controversy, though, came five minutes later. Clattenburg decided Spanish international striker Fernando Torres had dived near the Red Devils' box and showed the former Liverpool man a second yellow - replays showed, very clearly, United defender Jonny Evans had tripped Torres.
Nonetheless, a second yellow and a red card were shown to Torres and Chelsea were down to nine men, with a little over 20 minutes to play and the score at 2-2.
And the refereeing team compounded their and the Blues' misery 15 minutes from time, after the linesman failed to spot a hilariously obvious offside for United's third goal. Javier Hernandez was miles offside when he scored the winner; in fact, the Mexican was almost ahead of goal keeper Petr Cech when the pass was made.
The goal was allowed to stand though and United recorded a hugely fortuitous win at Stamford Bridge.
Mark Halsey, Liverpool v Manchester United (23 September, 1-2)
And now we come to IBTimes UK's No 1 pick.
Check out Mark Halsey's guide on how to ruin one of the most anticipated fixtures in any Premier League calendar - Liverpool going head to head with Manchester United.
Late in the first half, with the score at 0-0, Reds' Jonjo Shelvey and Evans both go into a tackle. The Liverpool man went in with one foot and won the ball but his follow-through caught Evans. The Northern Irishman went down and stayed down, rolling around like he'd been shot.
Replays show Evans went in rather more recklessly than Shelvey (two-footed, in fact) and in a manner similar to the red card for City captain Vincent Kompany, in the champions' fixture against Sir Alex Ferguson's side. However, Halsey's decision was to show Shelvey a red card.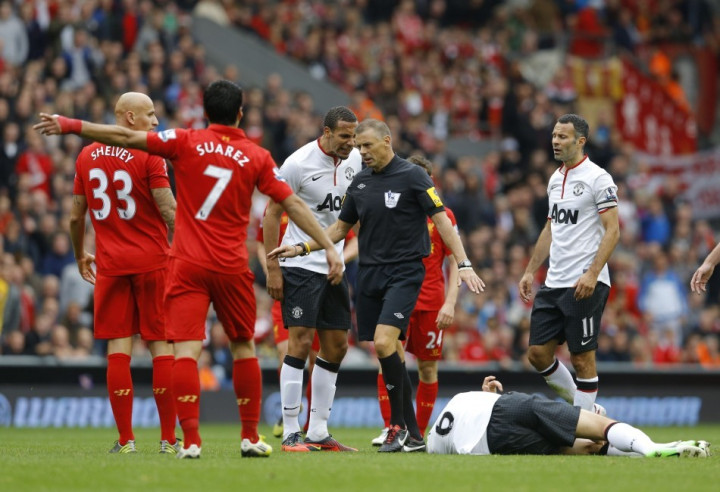 The decision was strange, to say the least.
As an incident, Halsey should really have either shown yellows to both players or sent both off; and if he felt no disciplinary action was warranted, then a stern warning should have been given.
Sending off one player and leaving the other on appeared to be a somewhat ridiculous decision.
Now, we're all aware of how difficult a job refereeing a top match is and mistakes do happen. However, like footballers, we also expect referees to be aware of mistakes and improve their performance.
Halsey, unfortunately, continued in a similar vein after the break. Suarez was clearly fouled in the United box by Evans, again, but no call was made. And neither was a call made when Dutch striker Robin van Persie went in two-footed on Spanish youngster Suso... the former Arsenal man received only a yellow.
We're sure Shelvey would have had a few thoughts on that decision.
These are just three of several decisions Halsey got wrong in the match. For example, Liverpool centre back Daniel Agger was brought down in the United box early in the first half but nothing was given. And Shelvey, admittedly, deserved a yellow for a tackle on Rafael; that doesn't justify his red card though.
Finally, Halsey also allowed a soft (controversial) penalty late in the second half, after Antonio Valencia went down inside the box. To the referee's credit, although the Ecuadorian made the most of minimanl contact from Glen Johnson, we have to agree there was contact and the struggling referee made at least one right call. Then again... if that was a penalty, then what was the foul on Agger?