Toshiba has launched the U840W Cinemascope Ultrabook - the world's first 21:9 ratio laptop.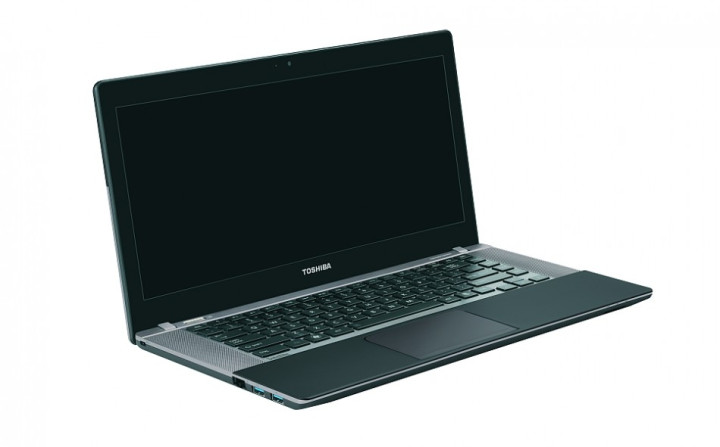 Key Features:
21:9 Cinemascope ratio
Harman/Kardon stereo speakers
Available Q3 2012
Prices start at £899
Toshiba U840W Satellite Ultrabook: Cinemascope
"If you go to the cinema you will be watching in 21:9," a spokesman said at a UK preview event for Toshiba's latest products. "Now you can take that anywhere."
Toshiba claims the U840W Ultrabook is the world's first cinemascope laptop and that unique ultrawide design will finally eliminate black bars from movie playback.
The Ultrabook has been designed for cinema enthusiasts and at first glance this stylish laptop looks as if it should deliver what Toshiba says will be the ultimate cinema experience on the move.
IBTimes UK put the U840W through its paces by running the latest trailers for Christopher Nolan's The Dark Knight Returns.
Crisp visuals were extremely pleasing to watch and that promised screen-filling 21:9 ratio is a real delight.
LED backlighting has been employed to help boost contrast and colour saturation and this did create a very watchable image.
Speaking to the Toshiba spokesman as we played with the U840W Satellite Ultrabook, it seems the company didn't specifically research whether movie fans are crying out for a 21:9 machine.
However, Toshiba is confident the large amount of material now available in the cinemascope format will convince people to buy the U840W.
"If you go onto iTunes there's content in the 21:9 format to buy and a lot of HD film websites do the same. You can also find most trailers in the same format," he said.
As much as we would all like to watch movies 24/7, at some point users are also going to need to surf the web or - dare we say it - do some work.
If you are worried how the super-wide 1,792 x 768 screen performs during those functions, Toshiba has thought of that too.
The Satellite U840W's unique screen makes use of its long length by viewing multiple windows side-by-side.
Documents, web pages or images can be viewed on-screen at once without the need to overlap and Toshiba's Split Screen Utility lets users view content in the standard 16:9 screen ratio, leaving space for an additional 5:9 window.
All that is handled by an Intel 3rd generation Core processor for Ultrabooks.
Toshiba U840W Satellite Ultrabook: Sound
It would not make much sense to invest in an ultrabook with superb cinematic visuals if the audio output made it sound like it was coming out of two tin cans.
Rest assured that Toshiba has noted cinema enthusiasts love of a good soundtrack along with a quality image and has provided high-quality Harman/Kardon stereo speakers in the U840W.
Those speakers from the specialist company combine with SRS Premium Sound 3D audio enhancement to ensure movies, music and games all sound as good as they should.
Toshiba promises a rich and clear soundscape to match the cinematic visuals and even when we pushed the Ultrabook's sound to the max there was no distortion.
Toshiba U840W Satellite Ultrabook: Shape
As with any Ultrabook, slim-line portability is the name of the game. At 20.8mm thin and weighing 1.814kg, the 14.4in U840W definitely fits that bill.
Does it have the Hollywood good looks to go with its cinematic feel?
The premium look of its brushed metal finish certainly helps, while metal speaker grilles and display hinges do add a touch of elegance to the Satellite U840W.
However, without that 21:9 cinemascope screen we feel this might blend into the pack of other Ultrabooks a little too easily.
A woven pattern on the laptop also adds additional grip on the chassis.
"This textured area means it is less likely to slip out of your hands, which is a new direction for us," the Toshiba spokesman said at the UK launch.
A large gesture control touchpad lets users swipe, pinch, zoom and scroll through documents and the buttons have been integrated into that pad.
The matte-black tiled keyboard fits the overall look and features a backlight to illuminate each key when typing in low-light conditions.
It is the keyboard that has suffered most from the change of shape, though.
The 21:9 ratio screen provides a shorter, longer area for the keys to be placed in and it won't be to everyone's taste.
It felt cramped and small and pushed up towards the screen to allow room for the touchpad.
There won't be too much of a problem adjusting if you currently use a netbook but those used to an expansive keyboard might struggle.
Toshiba U840W Satellite Ultrabook: Connections
Naturally, such a cinema-focused laptop comes with HDMI as standard, allowing high-definition content to be pumped out to any HD TV.
Three full-sized USB 3.0 ports allow file transfer up to 10 times faster than with USB 2.0, which will come in handy when you want to move large video files between devices.
One of those USB ports also acts as a Sleep-and-Charge plug, so you can draw power to a smartphone or other device even when the laptop is turned off.
An Ethernet LAN socket and a multi-card reader make up the other physical connections, while Bluetooth 4.0, Intel Wireless Display support and Wi-Fi 802.11 b/g/n will keep you wirelessly attached.
Toshiba U840W Satellite Ultrabook: Storage and Memory
A 32GB solid state drive guarantees faster boot up times, longer battery life and an overall improved performance.
That won't help store a large library of HD video files though and so it is backed up with an additional 500GB hard disk drive.
Depending on the spec users buy, the machine comes with up to 10GB DDR3 RAM.
Toshiba U840W Satellite Ultrabook: Verdict
The Toshiba U840W Satellite Ultrabook is currently slated to run Windows 7 Home Premium but we wouldn't be surprised to see that bumped up to Windows 8 come the launch later this year.
Expected to be available from Q3 2012, the U840W starts with an £899 price tag and that puts it in the middle of the market for Ultrabooks.
Whether the cramped keyboard will be enough to put off those who can live with a few black lines on their movies remains to be seen.
As a fan of high-definition movies on the go and a netbook user to boot, we could easily be tempted to part with money for one of these.
Score:
Overall: 8/10
Must Read:
Toshiba LX830 Desktop PC Expands All-in-One Range