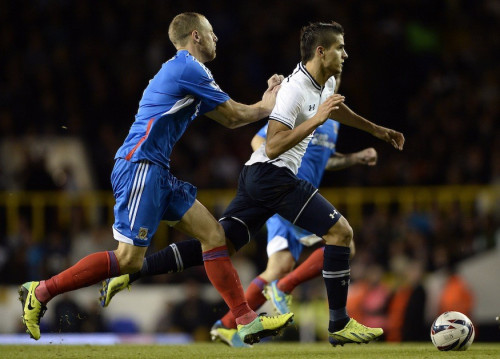 Tottenham Hotspur have sought to block Erik Lamela's exit from the club despite the Argentine having reportedly entered into talks with Inter Milan over a possible mid-season loan move.
Lamela smashed Spurs' transfer record when the winger made the move from Roma in the summer. He is touted for big things at White Hart Lane but is yet to set the Premier League on fire, having sighted cultural differences behind his delay in settling in.
With reports suggesting yesterday that Lamela's agent landed in Italy to discuss a possible loan move to Inter, who are looking to seriously bolster their squad on the back of a recent takeover, the Telegraph have claimed that Tottenham have refused to allow the 21 year old to leave.
Currently out of action with injury, Lamela has played in just nine league matches for Spurs this season. He has scored once – in a Europa League game against FC Sheriff – and while former boss Andre Villas-Boas continued to insist he had faith in the youngster Tim Sherwood might not offer him such preferential treatment.
With the World Cup coming up within the next six months Lamela will certainly have his eye on impressing in the hope of traveling to Brazil as part of the Argentina squad but game time continues to be sporadic for Tottenham, leaving the winger frustrated.
Spurs are facing a particularly tough fight for a top four finish with a group of players purchased by the now sacked Villas-Boas and Sherwood reportedly wants to keep as much depth as possible, particularly as his attack are only just beginning to find their stride in front of goal.
A move to Inter would also likely hamper Lamela's ability to settle into life in north London and also to learn the English language, a problem which he admitted was making it very difficult to reach the highs he had done whilst at Roma.