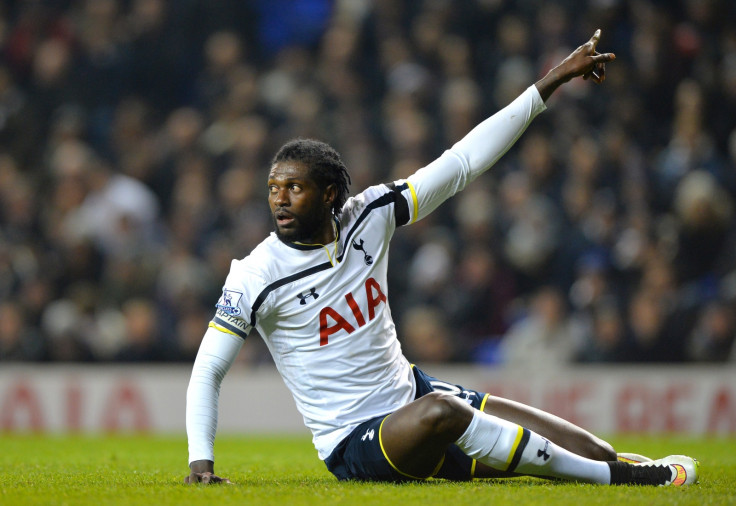 Tottenham Hotspur manager Mauricio Pochettino has refused to comment on reports linking Emmanuel Adebayor with a loan move to Paris Saint-Germain during the closing days of the January transfer window.
The Togo forward has scored just two goals in 15 appearances in all competitions this season and has recently become a target for criticism from a large portion of Spurs fans.
Adebayor was an unused substitute during the League Cup semi-final second leg against Sheffield United on Wednesday 28 January, with Harry Kane preferred in attack, but after the game, Pochettino refrained from commenting on Adebayor's future at Tottenham.
"No comment because it's the first information you give me now," Pochettino said in his post-match press conference at Bramall Lane.
The 30-year-old has endured a torrid spell at the north London club since joining Tottenham permanently from Manchester City in the summer of 2013 and has recently become a much-derided figure among the White Hart Lane support.
The ex-Arsenal forward was booed on to the field when he replaced Roberto Soldado during the 2-1 Premier League win over Sunderland on 17 January and four days later was given a negative reception to being substituted for the Spaniard in the first leg against the Blades.
Adebayor has a tempestuous relationship with the Tottenham support, whom he criticised for booing the team following the 2-1 defeat to Stoke City in November and then claimed it would be easier playing all their matches away from home.
PSG are understood to be looking at Adebayor to supplement their attack during what will be rigorous end to the season, with the club fighting on four fronts during the second half of the campaign.
Laurent Blanc's side are four points adrift of Ligue 1 leaders Lyon but are into the semi-final of the Coupe de la Ligue, the quarter-final of the Coupe de France and last 16 of the Champions League – where they face Chelsea.