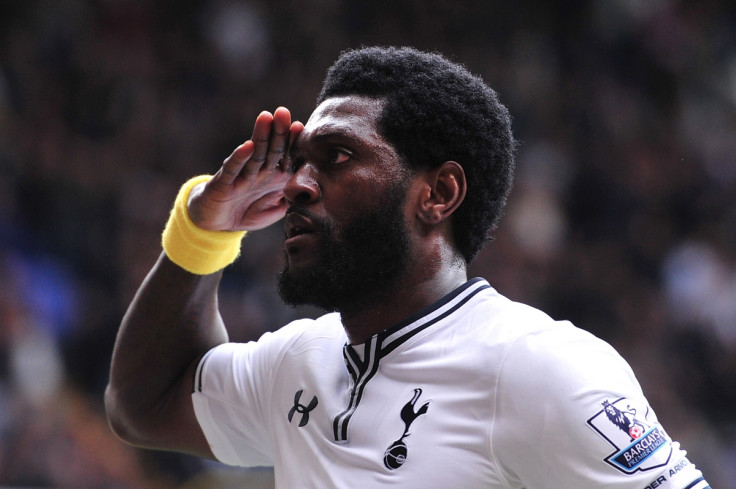 Tottenham Hotspur manager Mauricio Pochettino has backed his decision to give Emmanuel Adebayor the captain's armband during the 1-0 victory over Sheffield United on Wednesday 21 January for the Capital One Cup semi-final first leg.
The former Arsenal and Manchester City striker had not played a game since the home defeat against Stoke City on 9 November – after which he criticised Spurs supporters for not making the team feel welcome at White Hart Lane.
But Pochettino decided to restore the Togo star to the starting line-up against the Blades, while naming him as captain in the absence of the rested Hugo Lloris and Younes Kaboul.
The striker failed to score a goal despite having a great chance before half-time, while he was booed by some fans when replaced by Spanish star Roberto Soldado.
When questioned about his decision and the supporters' reaction, Pochettino said: "He is one of the three captains.
"You forget [I named them] at the beginning of the season. I think it is not the moment to explain why. When I took a decision it was seven months ago, I took the decision that Kaboul, Lloris and Adebayor were three captains, seven months ago. It is a long, long time ago that happened.
"I had no doubts. I didn't hear [any bad reaction]. I am focused on the game."
A late penalty from Andros Townsend gives the north London side a small advantage to take into the second leg at Bramall Lane on Wednesday 28 January.
But the Argentine boss is still cautious on securing the qualification to the final as Sheffield United proved to be a tough rival.
"If Sheffield United are in the semi-finals, it is because they deserve [to be there]. It was difficult to create chances. They played deep, had a good organisation, played aggressively and maybe we were wrong in the way we tried to arrive and create chances," the manager said.
"I think we improved our performance in the second half and created chances. I think we deserved our victory. Maybe our position was wrong, I think we were wrong in our defensive position, we played very slow and had a low tempo. [There were] always three, four, five touches and after that we passed the ball. This made it difficult to create chances."