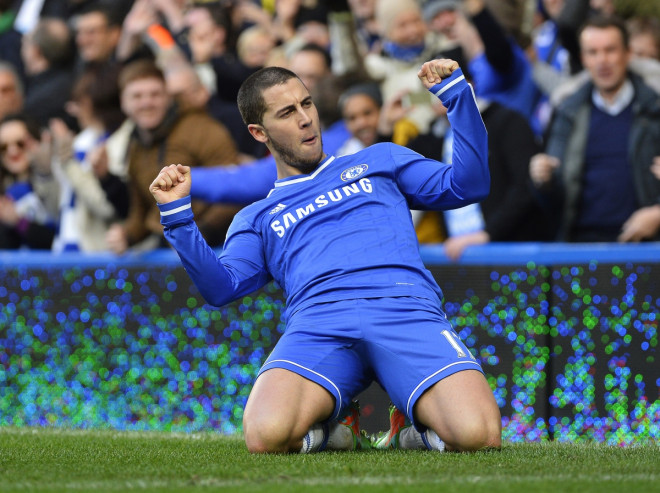 Chelsea and Tottenham Hotspur are waiting to learn whether Eden Hazard and Christian Eriksen will be available when the two sides meet at Stamford Bridge this weekend.
Hazard came off the bench for Belgium after an hour on Wednesday evening but was on the receiving end of a rough challenge from Newcastle United's Chieck Tiote just minutes later, as Marc Wilmots' side surrendered their lead to draw 2-2 with Ivory Coast.
"It hurt, but I think I can play this weekend," Hazard said following the match, but his national team coach also revealed the playmaker's ankle was left badly swollen, a possible blow to Jose Mourinho's game plan ahead of the visit of Tim Sherwood's side on Saturday.
"His (Hazard's) sock was broken and his ankle was immediately quite swollen," Wilmots said. "Such things happen in top-class football."
Tottenham have their own worries ahead of their trip to west London as the club wait to learn if Eriksen has recovered from a back injury. The 22-year-old missed his club's 1-0 victory over Cardiff City last Sunday and manager Tim Sherwood suggested the midfielder would drop out of the Denmark squad as a precaution.
However, Demark boss Morten Olsen had other ideas and even contemplated using Eriksen in his side's 1-0 loss to England.
The Tottenham midfielder was eventually left out of the side that lost to Daniel Sturridge's late winner, but was disappointed to miss out on his Wembley experience.
"I've never played at Wembley. And of course it would be special to play there," he said.
"For a lot of the lads it is the same. It is a big stadium with a huge history.
"Everyone talks about the big pitch and the atmosphere – it's the place to be."
There is yet to be any updates on Eriksen's condition but his absence will mark an enormous blow to Tottenham's hopes of getting a result at Stamford Bridge.
Although Hazard is confident he will be fit to play, his presence will be missed at Stamford Bridge on Saturday should he fail to prove his fitness as he the club's goal scoring charts with 13 goals in all competitions.