Harry Redknapp has called on Premier League clubs to concentrate on hiring English talent for managerial positions, with the Tottenham man still being strongly connected with the England job.
Redknapp is currently favourite to take the England managerial position after Fabio Capello quit over a disagreement with the FA, and the football heads have made it clear that they will favour homegrown talent as it becomes clear that a foreign manager might not be the answer.
And the Tottenham gaffer, who looks like he may take the north London club to the Champions League for the second time in three years if they remain on course this season, believes that his lack of competition for the England role comes down to a lack of support for young England managers in the Premier League.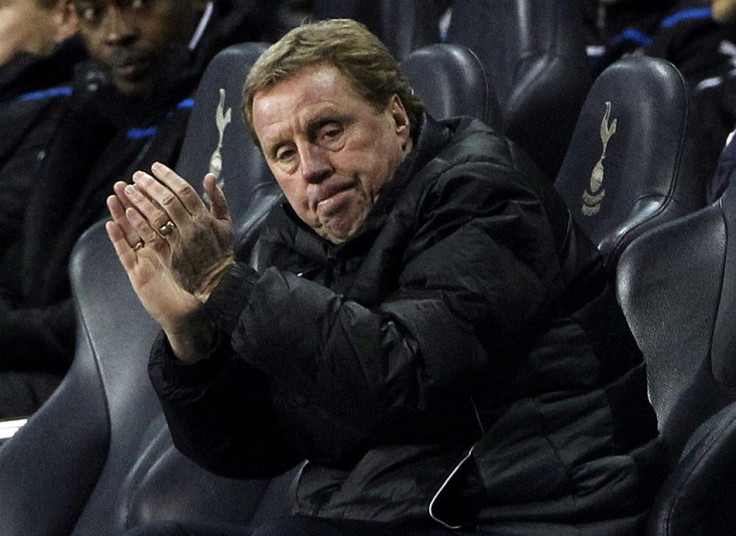 "Of course if you give them a chance it shows you what they can do," Redknapp told The Daily Mirror.
"As I have said before, the only way the young boys can get a job [in the Premier League] is to get a team promoted - Tony Pulis at Stoke has always said that.
"He wouldn't have got a chance in the Premier League unless he brought Stoke up and he's done a great job.
"It is hard. People don't give them a chance. They go for foreign managers, most clubs have got foreign owners now.
"They want big names. They read about big names and think, 'oh that's all right, we will bring him over'. And it is very difficult to bring people in."
Chelsea are one club currently looking for a new manager in the wake of sacking Andre Villas-Boas, and it would appear that Redknapp's prediction is correct in this case at least, with foreign names currently dominating the favourites list.
Should Redknapp vacate Tottenham in the summer, Swansea manager Brendan Rogers is currently a favourite to take on the position at White Hart Lane.
The Northern Irishman looks to have made a name for himself in the Premier League as a result of Swansea's resilience in the top flight, after the side were promoted from the Championship last season. And should he take on the role at Tottenham, it could be his first berth in the Champions League.