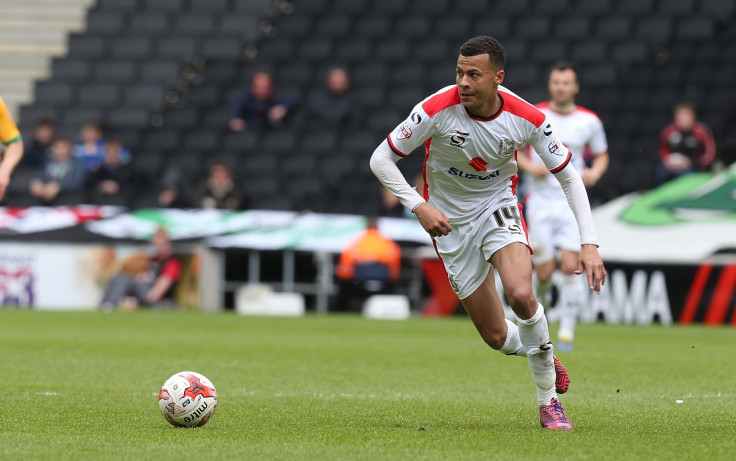 Tottenham Hotspur new boy Dele Alli has explained the reasons for turning down a move to Liverpool in 2014 upon the start of his White Hart Lane career.
The 19-year-old moved to Spurs in the January transfer window but was loaned back to Milton Keynes Dons for the remaining six months of the 2014-15 season.
Alli was among the most coveted young players in English football prior to moving to Tottenham, with Liverpool having been among the club interested in his services in June 2014, according to The Daily Mail.
But the midfielder says the timing of the prospective move to Liverpool was not right but now feels at home at Tottenham under manager Mauricio Pochettino.
"At the time I didn't feel [Liverpool] was the right move personally, and I wanted to stay at MK a bit longer to get some more first-team experience," Alli told Four Four Two magazine. "I knew if I got more experience by the end of the season that I'd be ready to move."
"When we were looking at moving I think it was really important that we found a manager who was similar to the gaffer [Karl Robinson]," the England youth international added.
"Someone who has a lot of trust in young players and isn't scared to put them on. I can see that in the manager [at Tottenham], so it's a great move for me.
"Obviously I still speak to the gaffer and we are still really close. He's just told me to go there and be myself. He's also told me that everyone will go in at the same level in pre-season, that I've got a chance, and I'm really grateful for that.
"He's given me the chance to impress and I'm just going to try to take it as best I can. I'll be focusing on what I need to improve on and hopefully when the time comes I'll be ready."
Pecking-order battle for Alli
Alli came through the MK Dons academy before becoming a key member of the club's first team, who won promotion to the Championship last season after a series of near-misses.
Joining a Tottenham squad that has a deluge of midfield options, including Nabil Bentaleb, Benjamin Stambouli, Mousa Dembele, Ryan Mason and Tom Carroll, Alli is likely to find himself down the pecking order come the start of the season.
But the ex-Dons youngster is unwilling to take the easy way out and move out on loan next season even if his first opportunities are few and far between.
"I'm not going to lie, it's going to be hard and it's going to be a challenge, but it's one I believe I'm ready to take," he explained. "As far as I'm concerned I'm at Tottenham to play and I'm going to work hard to make sure that happens.
"We've got a great team here with some great players who I'm really looking forward to working with. I'm just going to train as hard as I can, work as hard as I can and wherever I'm needed that's where I'll play.
"I'm really excited to be working with Pochettino. I've met all the players and I'm looking forward to working with them – hopefully playing in the Premier League. It's every boy's dream and I'm really looking forward to the challenge."