Tottenham Hotspur: Emmanuel Adebayor tips Harry Kane to 'save' season of Spurs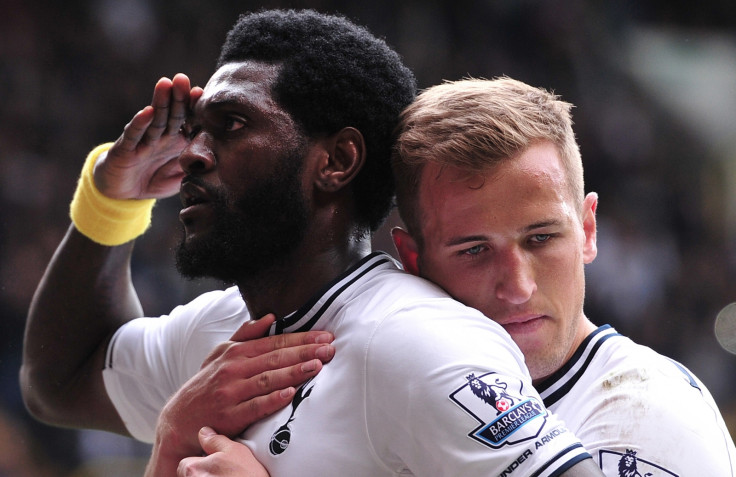 Tottenham Hotspur striker Harry Kane can still inspire the club to a top-four finish despite the six-point deficit created by defeat to Manchester United.
Spurs' limp 3-0 defeat to Old Trafford leaves them seven points adrift of third-place Arsenal and six behind United with nine games of the season remaining during which time manager Mauricio Pochettino's side face Southampton and champions Manchester City.
Two seasons ago, Gareth Bale struck 21 times in 34 league matches to take Tottenham to the brink of a return to the Champions League, only for them to miss out in a final day duel with Arsenal.
Kane has already fired 16 league goals for Tottenham this season and has been the spearhead of their pursuit of top-tier European football next term, and Adebayor is tipping his teammate to be the driving force for the club in the same way Bale was two years ago.
"It's quite hard [to be out of the team] but I'm very happy and pleased for Harry Kane," Adebayor told The Guardian after his second appearance of 2015 at United. "He is a young lad that came out and, at the moment, I think he is the only one that can save our season, like I did last season.
"Two years ago it was Gareth Bale. In football we all have our moments. I just have to work hard, come back and play football. Football is a funny game.
"Today, you are zero; tomorrow, you are a hero. At the beginning of last season, everyone wanted me out. At the end of the season, they wanted me to stay. I just have to keep believing in myself, keep doing my thing.
"Harry can get the club [Tottenham] into the top four. People are starting to get to know him and what he can do on the field but he is an intelligent lad.
"He is learning through his difficult moments as well. We all have a huge faith in him. Hopefully he will drag us out of the top seven and put us in the top four."
© Copyright IBTimes 2023. All rights reserved.