Cardiff City 3-2 Manchester City
(Gunarsson, 60, Campbell, 79, 87) (Dzeko, 52, Negredo, 90)
Tottenham Hotspur 1-0 Swansea City
(Soldado, 58)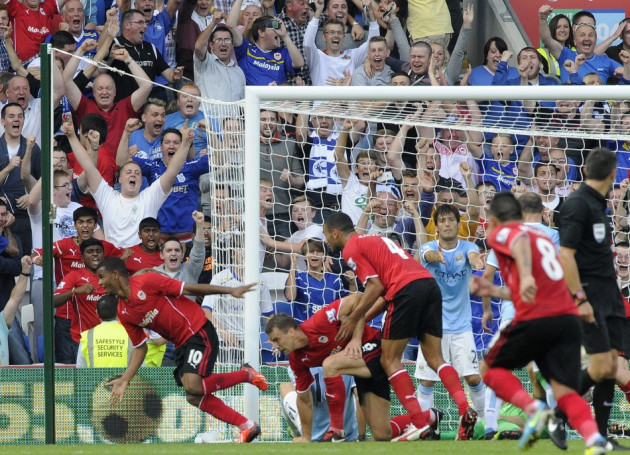 18:08: That's it. After Edin Dzeko's screamer it looked as if the afternoon may have been heading down a predictable route, but Malky Mackay and his side commendably stuck to a resolute game plan and have taken a historic win. Frazier Campbell has reintroduced himself to the Premier League in stunning fashion and will take an immeasurable boost from an excellent performance, as will the city of Cardiff.
It was a slightly more low key affair in north London as Spurs collected another narrow win, but Roberto Soldado continues to take to life in the Premier League like a duck to water.
17:57: That's it! Cardiff have beaten Manchester City! The Bluebirds were given a fright with Negredo's goal and one or two menacing attempts from Aguero but resolute defending backed by a passionate home support has seen the newly promoted Cardiff pull one of the biggest upsets we will see this season.
Full time: Cardiff City 3-2 Manchester City
17:54: Aguero dances into the Cardiff box but hits his effort wide of the left hand post. Half a minute left.
Full time: Tottenham Hotspur 1-0 Swansea City (Soldado, 58)
17:52: Negredo gives City hope as he gets on the end of a hanging cross from Silva and directs a good header past Marshall.
Goal! Cardiff City 3-2 Manchester City (Alvaro Negredo, 92)
17:50: Six minutes of extra time.
17:49: No coincidence that City's inability to defend from set pieces coincides with Vincent Kompany's absence. They looked shambolic for both Campbell's goals, missing his organisation and his sheer presence back there.
17:46: Wow. Absolutely incredible. Newly introduced Cowie swings in another corner and it's Campbell again who escapes from Zabaleta and leaps to connect with the cross and drive a header past Hart.
Goal! Cardiff City 3-1 Manchester City (Fraizer Campbell)
17:43: Desperately poor from Joe Hart for Cardiff's second. Was put under pressure but made no attempt to meet the inswinging cross that Campbell connected with. Cardiff's game plan has worked superbly today, perfectly if they manage to keep the scoreline as it is for the remaining five minutes.
17:41: Craig Bellamy departs to a standing ovation, replaced by Cowie.
17:40: Incredible stuff. Cardiff have barely been able to get out of their own half for the last 15 minutes and signs of fatigue were beginning to creep into their game. The remaining eight minutes of this are going to drag for those Cardiff players.
17:38: Cardiff take the lead! Peter Whittingham whips in a vicious corner that Hart fails to deal with, with Gunnarson stood in front of him. Campbell thumps a header in at the far post.
Goal! Cardiff City 2-1 Manchester City (Fraizer Campbell, 78)
17:35: Swansea have introduced Wilfried Bony in this half leaving Michu to drop deeper. Laudrup's side immediately look more cohesive and more likely to threaten.
17:31: Nervy moment for Cardiff as Turner leaps to clear a City cross despite Marshall calling to claim it. Aguero gets hold of the loose ball but his drive is deflected wide.
17:27: £16m man Alvardo Negredo replaces Edin Dzeko for Man City.
17:24: After a brief flurry following the goal, it's back to business as usual as City regain control of possession with Cardiff struggling to find an outlet.
17:19: Cardiff City Stadium explodes as Gunnarsson scores to pin City back. Pellegrini's side stood off Kim as he darted into the box and drove a cross into the six yard box. Campbell's effort at the near post was denied by the feet of Hart but Gunnarsson was on sight to fire home the rebound.
Goal! Cardiff City 1-1 Manchester City (Aron Gunnarsson, 59)
17:16: We are off and running in both this afternoon's games now. After getting away with one in the first half, Jonjo Shelvey is penalised and Neil Swarbrick Swarbrick has no hesitation in pointing to the spot. Roberto Soldado steps up to add his fourth goal in a week.
Goal! Tottenham Hotspur 1-0 Swansea City (Roberto Soldado, 57)
17:11: What a goal from Edin Dzeko. The Bosnian picks up the ball from outside the area from Aguero and fires an unstoppable shot past the despairing Marshall into the top left hand corner. Caulker perhaps have got closer to his man, but the Bosnian's strike was as sweet as you'll see this weekend.
Goal! Cardiff City 0-1 Manchester City (Edin Dzeko, 51)
17:06: City earn the first corner of the second half which eventually falls to Zabaleta who scuffs his shot in the direction of Lescott, who betters the Argentine's effort by skying the ball into the stands.
17:02: Back underway at White Hart Lane and the Cardiff City Stadium.
16:55: Also goalless at White Hart Lane between Spurs and Swansea. Tottenham have had their chances to go ahead put have failed to capitalise due to a mix of good goal keeping from Vorm and poor finishing. Andre Villas-Boas will be fuming however after his side were denied a seemingly stone wall penalty when Jonjo Shelvey clattered into Andros Townsend on the right side of the Swansea area. Referee Neil Swarbrick awarded a free kick when replays showed the challenge clearly took place in the box.
16:50: Half time at the Cardiff City Stadium. Mackay will be happy with his side whose industry and drive has negated the flair within the City ranks. Whether the hosts can maintain this high pressure pressing and relentless chasing could decide how this one ends up. Silva has endured a poor first half having not been afforded an inch of space and it's a similar story for his teammates. Superb from Cardiff.
Half time: Cardiff City 0-0 Manchester City
Half time: Tottenham Hotspur 0-0 Swansea City
16:46: Joe Hart denies Campbell with a great save after Garcia completely failed to clear the danger inside the left of the penalty area. The ball sat up invitingly for Campbell but Hart is out in a flash to block the effort.
16:43: Campbell races through after being played through by Gunnarsson, fancying his chances having crept ahead of Lescott and Garcia. The Cardiff striker just can't connect with the ball as the City pair scramble back to recover.
16:41: Dzeko and Silva combine before the Bosnian plays the ball to Clichy. The full back swings in a sweet cross over the Cardiff defence for Silva whose run was excellent, but connects with an inexplicably poor header.
16: 36: Vorm called into action at White Hart Lane in Tottenham's best move of the match. Walker combines with Dawson before sending the ball in to the awaiting Dembele, whose effort is tipped over the bar. Dawson's header from the resulting corner loops over the bar.
16:35: David Silva hits an effort from outside the box but it is comfortably caught by Marshall. Typifies City so far to an extent, their best openings have come on the break but they have struggled to break down the Cardiff defence when in consistent possession with the ball.
16:28: Toure breaks after Medel fails to control the ball and bombs menacingly towards the Cardiff goal. The Ivorian pays Dzeko through, but the striker fails to control it. Initially looked as if Toure may have put too much weight on the ball, but replays suggest the big Bosnian should have done better. May have not been his smartest move, but Dzeko then delivered a ominous glare to the towering midfielder. Brave.
16:25: Campbell scuttles past two City players before he's caught by a great tackle from Toure, who appeared to have injured himself in the process. A quick check from the medic and he's back on the pitch.
16:20: Nearly a bizarre own goal in north London as Ashley Williams connects with a beautiful header from Walker's cross which slams against his post with a mystified Vorm routed to the spot. The Dutch keeper smothers the follow up effort.
16:16: Self-confessed hard nut Medel slides into brilliantly to reclaim possession from Toure before playing the ball to Whittingham, who takes a touch and shoots from 25 yards out. Hart saves comfortably.
16:13: Wayne Routledge tries his luck from 25 yards at White Hart Lane and sees his effort palmed away by Lloris into the feet of Michu. The usually composed Spaniard wasn't ready however, but a raised offside flag spares his blushes to some extent.
16:10: As expected, Cardiff are on the toes of every one of City's creative outlets as soon as they get the ball. With Campbell a willing runner for anything hit forward. Nearly caught up with Javi Garcia when chasing back pass.
16:06: Decent effort from Whittingham who gets it up and over the wall and has Joe Hart scampering over top the right hand side of his goal, but the ball dips the wrong side of the post.
16:05: Kim wins a free kick just outside the box after wriggling away from Lescott. Whittingham stands over it.
16:01: Lightening start from Cardiff. Craig Bellamy swings a cross in from the right which is touched on to Campbell by Whittingham. The former Manchester United striker (has anyone mentioned that yet?) hits the deck, but was unchallenged by Fernandinho.
15:54: Pre-game predictions? Cardiff 1-1 Man City and Tottenham 2-0 Swansea. Feel free to bookmark, wait, and ridicule in two hours time.
15:50: Man City have not won in Wales in the Premier League era. Alright, they've had two games there, a 0-0 draw and a 1-0 loss to Swansea over the last two seasons, but it still counts.
15:41: Andre Villas-Boas on today's game: "They are a difficult team to play against. They come in to the match on the back of a bad result against Manchester United. They have the comfort of having played at home on Thursday while we had a long trip back so I expect them to be completely different to the game against United. They will come out very, very strong."
15:39: Yaya Toure will be making his 100th Premier League appearance this afternoon in Cardiff.
15:37: Nastasic injured his ankle on a swamp-like pitch during City's Barclays Asia Trophy exploits in Asia during pre-season but has made rapid progress in his recovery, being named on the bench today. Garcia didn't enjoy the best first season in England last season in midfield, how will he cope being hustled by Fraizer Campbell, Craig Bellamy and Kim Bo-Kyung today?
15:32: Man City strolled to victory over an admittedly dismal Newcastle last Monday, while Cardiff suffered opening day defeat to West Ham at Upton Park, succumbing to a 2-0 loss in east London.
15:27: £8m summer signing Andreas Cornelius is in line for his debut today, but the Dane will have to wait after being named on the bench for Malky Mackay. Andrew Taylor returns in defence.
15:25: Ben Davies, Jose Canas and Jonathan de Guzman all come into the Swansea XI after their midweek victory.
15:23: Three changes for Tottenham as Kyle Walker, Jan Vertonghen and Nacer Chadli all return to the starting XI after Thursday's European trip.
15:21: Midfielder Javi Garcia steps in to replace injured Kompany at centre half, who was ruled out for up to a month by his manager on Friday. Not many other options for City with Matija Nastastic and Micah Richards still recovering from their own knocks. Injury crisis in defence? You bet.
Line ups
Cardiff City vs Manchester City
Cardiff: Marshall, Connolly, Caulker, Turner, Taylor, Gunnarsson, Medel, Whittingham, Kim, Bellamy, Campbell
Man City: Hart; Zabaleta, Garcia, Lescott, Clichy; Navas, Fernandinho, Toure, David Silva; Aguero, Dzeko
Tottenham Hotspur v Swansea
Tottenham: Lloris, Walker, Rose, Vertonghen, Dawson, Townsend, Dembele, Chadli, Capoue, Paulinho, Soldado.
Swansea: Vorm, Rangel, Chico Flores, Williams, Davies, Canas, de Guzman, Shelvey, Routledge, Hernandez, Mich
15:16: After being pummelled by Manchester United in their opening fixture, Swansea responded in style in their own European outing with a 5-1 win over Romanian outfit Petrolul Ploiesti at the Liberty Stadium midweek, a win that virtually sealed their place in the competition's group stage. Michael Laudrup's big test this season will be finding a balance between the Europa League and the Premier League.
15:10: Tottenham have got their season off to an encouraging start with a 1-0 win away to Crystal Palace last weekend followed by an emphatic 5-0 win over Dinamo Tbilisi on Thursday. Much to the relief to everyone who isn't a Spurs fan, Gareth Bale's move to Real Madrid seems to be on the brink of competition as one of the summer's longest transfer sagas draws to a much welcomed close, but Roberto Soldado's three goals in his first two games suggests life might not be that bad without the Welshman knocking around.
15:05: Welcome back to IB Times UK's minute by minute coverage of the Premier League. While Saturday proved to be a fairly subdued day on the goal front with just 11 hitting the back of the net from seven fixtures, Sunday promises to see that tally rise. Cardiff City play in front of their own fans for the first time this season as they welcome Manuel Pellegrini's Manchester City, while Tottenham Hotspur and Swansea City meet at White Hart Lane.