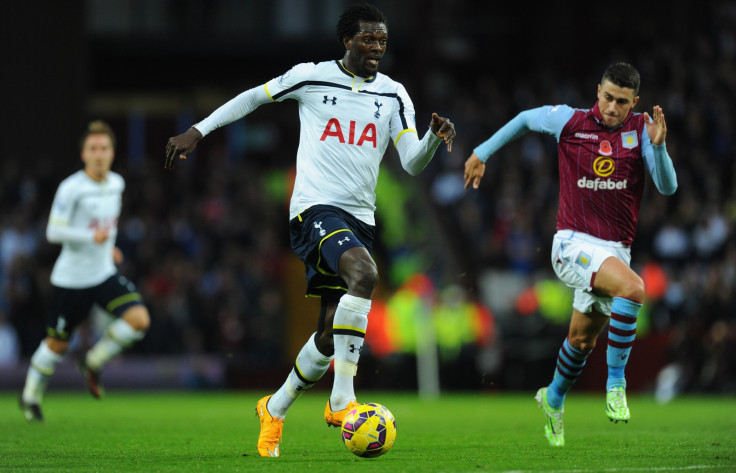 Tottenham have reached a mutual agreement with Emmanuel Adebayor to terminate the player's contract with the club with immediate effect. The former Arsenal man is now a free agent but cannot sign a contract with another club till January as he has been registered by the north London club in the Premier League.
"We can confirm that we have reached a mutual agreement with Emmanuel Adebayor which will see him released from his contract with the Club," a club statement said on Tottenham's official website. Adebayor has not made a single appearance with Tottenham this season and was training with the reserves after rejecting a chance to join Aston Villa this summer.
The Togolese striker was given an opportunity by Mauricio Pochettino to train with the first team and carve a road for himself in the starting eleven but he rejected the opportunity, much to the consternation of the Argentine, who was looking for more options up front. "We gave him the opportunity to train with the first team. but at different times. But he decided to train with the Under 21s. Always we give him the same opportunity to train and treat him the same as any other player," Pochettino said, as quoted by the Daily Mail.
"I don't have an opinion about this because it is a personal thing. Everyone is different. I cannot give an opinion. It is his preference. The question is for him, it is not for me. I was always good with him," he added.
The north London club tried to sign Saido Berahino from West Bromwich Albion this summer but a deal failed to materialise in spite of the player taking to Twitter to express his dissatisfaction at how the whole process was conducted. Tony Pulis came out to confirm that Berahino will be inducted into the first team despite his protests but does not expect Tottenham to move back for the player.