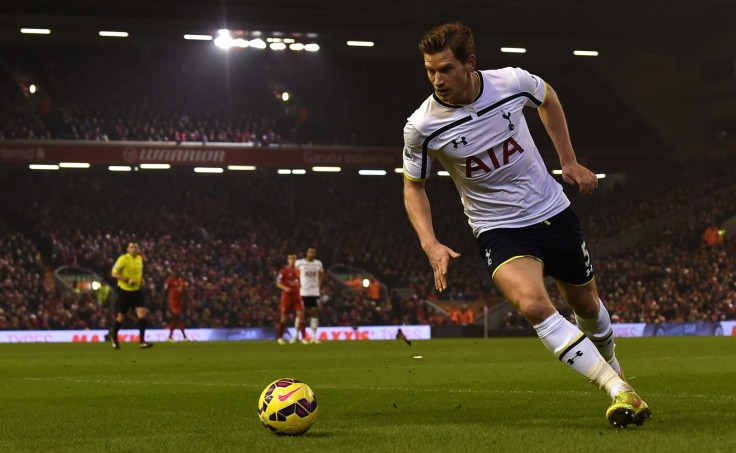 Tottenham Hotspur defender Jan Vertonghen has sent a warning to Champions League qualification challengers Arsenal, Liverpool, Manchester United and Southampton by stating the club are ready for the top-four pursuit to go down to the final day of the season.
Defeat to Liverpool at Anfield saw Spurs fall two points behind Arsenal, while United and Saints could take the initiative in the race for fourth spot when they play their games in hand on Wednesday 11 February.
Just three points separate third place Southampton and seventh place Liverpool ahead of the sharp end of the season, and Tottenham centre-back Vertonghen says he anticipates the race to go down to the final hours of the campaign.
"We have got five or six teams fighting for fourth place and there are probably two places to fight for - not only fourth but I think third as well," he said.
"It is better that there is an extra place but if you want to compete for the top four, you have to win against your rivals. We did that against Arsenal but unfortunately not this time.
"I think it will go right to the wire. There are too many teams and three or four will keep fighting for the end.
"Can we get third place? It is realistic but we will be happy with fourth place as well. We will go for as high as possible and if third is available, we will go for third."
Mario Balotelli ends his Premier League scoring drought
After making a habit of scoring late goals this season, with Christian Eriksen and Harry Kane's strikes in the twilight of games enhancing the club's top four push and sending them to the League Cup final, Tottenham had the tables turned on them at Anfield.
Mario Balotelli struck his first league goal of the season with seven minutes left to secure the points for Liverpool after the north London club had twice pegged back Brendan Rodgers' side with goals from Kane and Mousa Dembele.
Vertonghen admits his side –who inflicted a derby defeat on Arsenal over the weekend - were still trying to find a customary late winner going into the closing minutes and says Balotelli's late goal they will not force a change in their philosophy.
"I don't think we need to drop [deep] but sometimes when the game goes towards the end you have to know what you can get and be happy, maybe, with a draw," Vertonghen said.
"But I think the intention was to attack and I don't want to change that. I don't think anyone at Tottenham wants that.
"When it gets to the 80th minute, you might want to take a 2-2 draw. But I don't think Liverpool were really trying to go for it and get the 3-2 win - it came out of the blue.
"We have the belief that we can score in the last 10 minutes of every game but unfortunately this time it didn't work out like that. I think our intentions were good - we were trying to play and that is what we need to do in the next game."