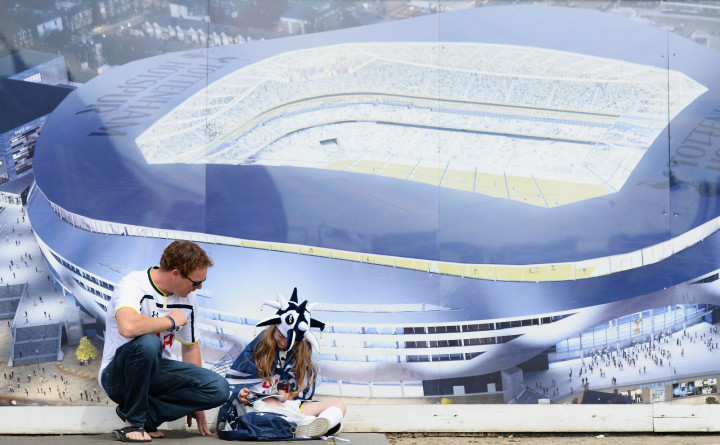 American investment group Cain Hoy have confirmed their interest in buying Tottenham Hotspur.
Reports on 11 September suggested owner Spurs Joe Lewis was ready to place the club on the market in a bid to attract new investors, who are prepared to tackle the financial burden of their new £400m stadium.
Tottenham subsequently released a statement to dismiss such suggestions, insisting no takeover discussions had taken place and that the focus was firmly on the club's new 56,250 capacity stadium – the construction of which has been delayed.
However, Cain Hoy, a private investment company acting on behalf of a group of United States businessmen, have made their interest known and will have just under a month to formalise an offer or back out.
A statement published by the Daily Telegraph read: "Cain Hoy Enterprises, LLC ("Cain Hoy") notes the recent speculation in relation to a potential approach to Tottenham Hotspur Limited ("Tottenham Hotspur").
"Cain Hoy confirms that it is at the preliminary stages of assessing a cash offer for Tottenham Hotspur. Cain Hoy's considerations are at an early stage, and there can be no certainty that any offer will ultimately be made or at what price any offer might be made.
"In accordance with Rule 2.6(a) of the City Code on Takeovers and Mergers (the "Code"), Cain Hoy must, by not later than 5.00 p.m. on 10 October 2014, either announce a firm intention to make an offer for Tottenham Hotspur in accordance with Rule 2.7 of the Code or announce that it does not intend to make an offer, in which case the announcement will be treated as a statement to which Rule 2.8 of the Code applies. This deadline will only be extended with the consent of the Takeover Panel (the "Panel") in accordance with Rule 2.6(c) of the Code.
"This announcement has been made without the consent of Tottenham Hotspur. A further announcement will be made in due course."
Spurs chairman Lewis is believed to have valued the club at just under £1bn.
In an added distraction to the club's start to life under new manager Mauricio Pochettino, Tottenham revealed on Wednesday 10 September they will have to spend a season playing away from White Hart Lane while they await the completion of their new home.
Initial plans to move into the new venue in time for the 2017/18 campaign have been derailed following a delay in construction, prompted by a High Court challenge launched by a landowner on the proposed site.
Wembley, the Olympic Stadium, Brighton's Amex Stadium and stadium:mk have been touted as possible short-term homes for Spurs when they leave White Hart Lane.