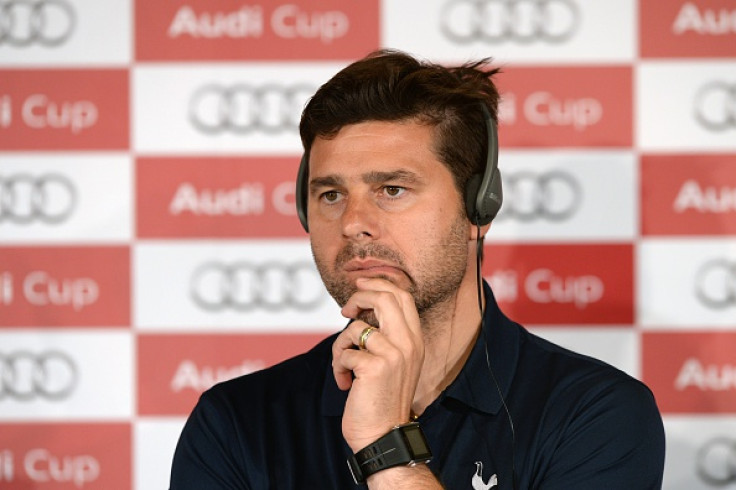 Tottenham manager Mauricio Pochettino has confirmed the need for another striker despite having various options in the attacking department at the club.
Spurs have been linked with a move for West Bromwich Albion forward Saido Berahino, according to the Mirror, but the Baggies have rejected the club's initial offer. The Argentine manager, however, has refused to name any targets, while insisting that they are not limiting their search to a single player. A plethora of targets are being assessed by the club for a potential summer move.
Pochettino has made it clear that Tottenham will only buy players that suit their profile, which has now shifted towards young players with future potential, rather than big money signings, which have not paid dividends in the past.
"If you have one and you fail, you are dead," Pochettino said, as quoted by the Guardian.
"We have confidence we will bring in some offensive player but I can't give the name today. Players that we want to bring here are always happy to join us. Tottenham is a big club, play very attractive football and our philosophy is very clear. I promise you: if we want to bring a player, they want to come. We need to bring the right profile for us," the Argentine explained.
"This season we can play in two different options, two different systems. Like we played against Stoke, with two strikers, Nacer Chadli and Harry Kane. We can play in a different system, I think we have the players for it."
"We have players like Chadli and Lamela, and now Njié, who can play like a striker but I think we need one more striker to be sure for different games. We need one more offensive player," he reiterated.
Spurs have signed Clinton Njie from Lyon this summer, and the Cameroon international can play all across the front line, either as a striker or on the wings. However, he may not be available for the north London club's trip to Leicester on Saturday 22 August, as he has trained for just one day due to a delay in getting his work permit.
"He is a very good player but he has only been here one day. We have to wait to see if he can stay in the squad for the game. He is fast, technical, his condition is high. Last season in Lyon he scored and gave assists. He is very direct player and he is brave," Pochettino concluded.