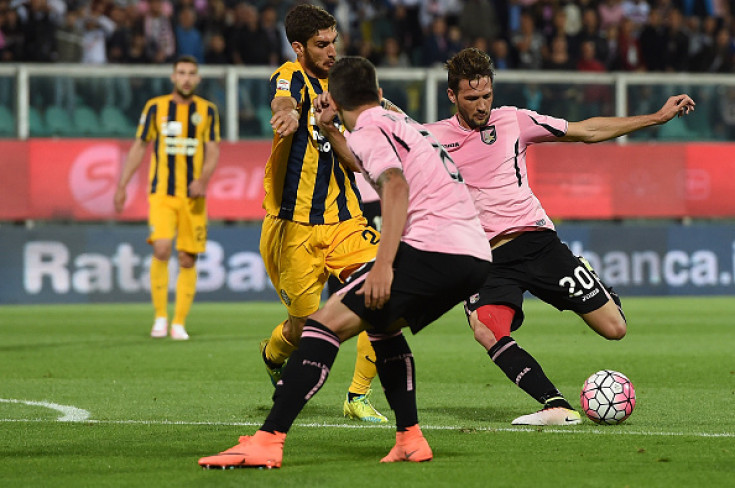 Tottenham have emerged the favourites to land Franco Vazquez from Palermo with frontrunner Fiorentina unwilling to stump the money to sign the player. The Italian has scored eight and assisted seven goals in the Serie A this season and has attracted interest from a lot of clubs in Italy and from the Premier League.
Italian newspaper Tuttosport claims the attacking midfielder could cost up to €30m (£23m, $33m) which has dissuaded a few clubs in Italy and allowed Tottenham to swoop in for the 27-year-old. However, the player wants to stay in Italy, something the management at Spurs have to sort out should they be able to agree terms with the club.
Fiorentina manager Paulo Sousa wants to encourage possession based football at the club and has thereby earmarked the midfielder as one to slot into his midfield. Tottenham manager Mauricio Pochettino is also one who thinks in the same ilk and is therefore looking to strengthen his squad and compete for the title next season, having missed out in the recently-concluded campaign to Leicester City, after falling to keep up the pace in the final few games of the season.
The Spurs had a chance to finish above Arsenal for the first time in over 20 years but failed to take advantage, as they lost 5-1 to Newcastle on the final day of the season. Pochettino was apologetic for his team's performance and urged fans to be patient for the season ahead.
"First of all I apologise to our fans and our families. The level we (normally) compete and the way we competed today... it was a shame. We cannot explain what happened on the pitch. The feeling is bad, very bad," Pochettino told Tottenham's official site.
"We cannot arrive in the last few games of the season and be the opposite of everything we have shown all season. A lot of good things have happened in this season but for now, you take away that good feeling. It's very difficult but we need to look forward, to fight, to be positive and to be strong," the Argentine coach added.