Tottenham may well face an uphill task in keeping hold of star midfielder Gareth Bale with Real Madrid prepared to make a sizeable offer in the summer.
The Spanish giants made it their priority to sign Luka Modric from Tottenham at the end of last season, and duly succeeded as the Croatian eventually moved to the Bernabeu in a deal worth in excess of £30million.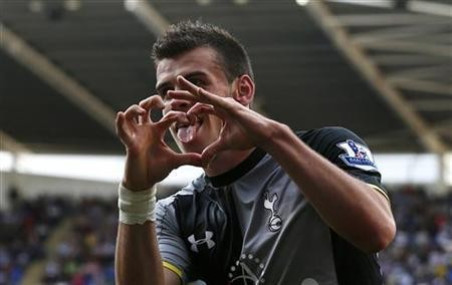 Now it seems they will attempt to persuade Bale to make the move to Madrid, with Spanish newspaper AS reporting that manager Jose Mourinho is determined to land the winger this summer.
Bale only signed a new contract earlier this year that makes him one of the highest paid players at the club, earning somewhere in the region of five million a year until 2016.
However, this has not acted as a deterrent to Real Madrid who reportedly envisage a system where Cristiano Ronaldo is switched to the right, in order for Bale to be able to play on the left of a front-three.
Bale has previously stated that he believes Madrid are the biggest club in world football, speaking in glowing terms about the Spanish club before playing them in the Champions League.
"I grew up watching and admiring Zidane, Figo, Ronaldo... it's true the club has something special about it," said Bale. "We are talking about the greatest club in the world. It's got the history, the character, the glamour."
The Wales international has also discussed on numerous occasions that he would be prepared to play abroad and stated that he believed La Liga was equally as strong as the Premier League.
"I'm not afraid to go abroad," Modric told AS last year. "If there is a good opportunity you have to consider it seriously. I left home when I was 15. If I leave the Premier I'll learn another language, I'll meet different people, I'll grow as a person. There aren't many Brits abroad, because the League here is so strong, but the Spanish league, with Cristiano and Messi, is now at the same level."
AS believe that Tottenham will be prepared to sell Bale and will demand somewhere in the region of £50million for his signature. Tottenham chairman Daniel Levy is an astute businessman and knows that he will only sell on his terms.
At 23-years-old, Tottenham know that they still have plenty of time and will be in no hurry to part with a player who is largely considered the best winger in the Premier League.