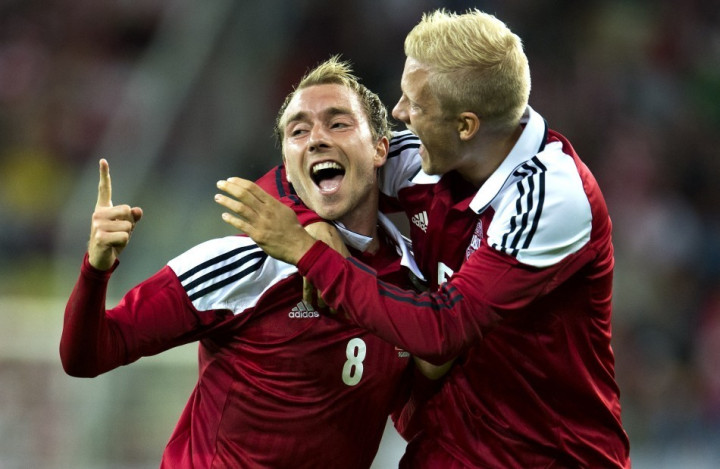 Denmark boss Morten Olsen has hit out at Tottenham star Christian Eriksen for his lack of contribution to the National team.
After a difficult start to life at White Hart Lane, following his £11.5m move from Ajax, the Dane finished the last season on a high, scoring nine goals in 22 matches across all competitions.
New Spurs boss Mauricio Pochettino has also handed him a leading role during the start of the campaign, and Erikssen has rewarded him with two goals in seven Premier League appearances.
However, Eriksen is still struggling to make the impact expected in his national team.
The Danes suffered a 1-0 defeat to Portugal in their European Championship qualifier on Tuesday [14 October] after a last-minute headed winner from Real Madrid star Cristiano Ronaldo.
Olsen has claimed the Spurs playmaker is the one to blame for the defeat after another erratic performance from the Tottenham star left the Danes second in the Groups, level on four points with leaders Albania.
"After so many matches he could pick up the ball and help to control the game. He has not been able to," Olsen said, according to Standard Sport.
"Therefore, we blame him. He must stand up to the criticism, and he does too."
Having already earned 47 caps for his country despite being only 22, Eriksen is considered one of the biggest stars in the Denmark national team and Olsen eventually expects him to lead the team.
"It is a brutal world, otherwise you have to play at another level. It is not Ajax any more, this is not development. It is quite something when you have to criticise a player like Christian Eriksen. It should not take place.
"If it was a player at a lower level, one could say that he had no class. But with Christian Eriksen [we] do not make the mistake. I must be tough and say [the truth] to him. And he knows it well."
Nevertheless, the player himself admitted he was far from his best, saying just after the Portugal defeat: "It could have been better."
"There was very little space. We tried to find some opportunities and create a little, but there was not much room for it. It was a day where we just didn't hit it.
"I got the ball and should have brought myself into the game even more. I am not getting the goals and assists and that is not what I want. You always hope that you can play your best but it was not like that today."