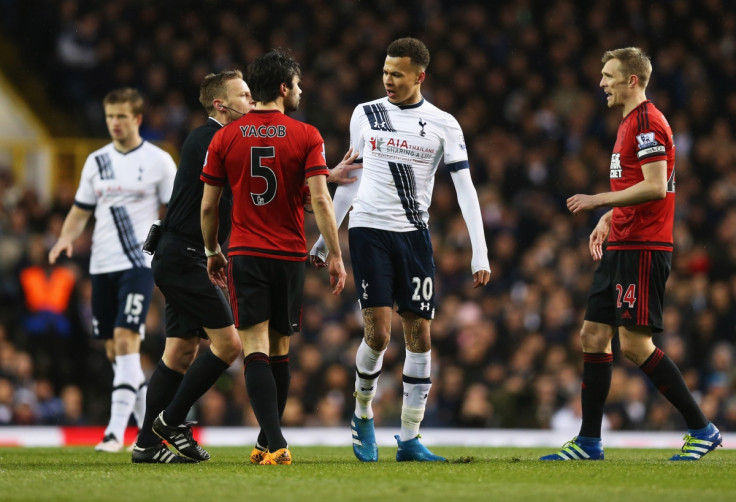 Tottenham Hotspur star Dele Alli has been charged with violent conduct by the FA after the England international appeared to punch Claudio Yacob in the stomach during his side's 1-1 draw against West Bromwich Albion on Monday night (25 April). The PFA young player of the year has until 6pm Wednesday to reply.
Alli faces a three-game suspension if he is found guilty, meaning he could miss the last three games of the season against Chelsea, Southampton and Newcastle United.
"Dele Alli has been charged for an alleged act of violent conduct that was not seen by the match officials but caught on video," the FA confirmed in an official statement.
"The Tottenham Hotspur midfielder was involved in an incident with West Bromwich Albion's Claudio Yacob in the 26th minute of the game last night. He has until 6pm on Wednesday 27 April to reply."
The FA can take retrospective disciplinary action in incidents that are not included in the referee's official match report, as it was in this instance.
"Off the ball incidents that are not seen at the time by the match officials are referred to a panel of three elite former referees," the FA added. "Each referee panel member will review the video footage independently of one another to determine whether they consider it a sending-off offence. For retrospective action to be taken, and an FA charge to follow, the decision of the panel must be unanimous."
The news is yet another crushing blow for Spurs' title hopes after the draw against WBA left them seven points behind Leicester City with just three games left. Spurs now need the Foxes to drop points in all remaining matches to have any chance of the title, but they may have to do it with one of their key players.
Manchester United midfielder Bastian Schweinsteiger and Chelsea star Diego Costa have both been handed three-match bans this season for violent conduct after similar incidents with West Ham defender Winston Reid and Arsenal's Laurent Koscielny, respectively.
Mauricio Pochettino admitted after the game that Alli has a "strong character", but refused to comment further on the incident with Yacob until he had watched it on TV.
The boss added: "I hear some comments, but I have had no time to see the action. You know sometimes the opponent tries to find him and to provoke him as they know he has a strong character and can maybe ­react. But I did not see. I don't know what happened. We will see on the TV. Nothing to comment now. Dele has a strong character and if you provoke or wind him up..."