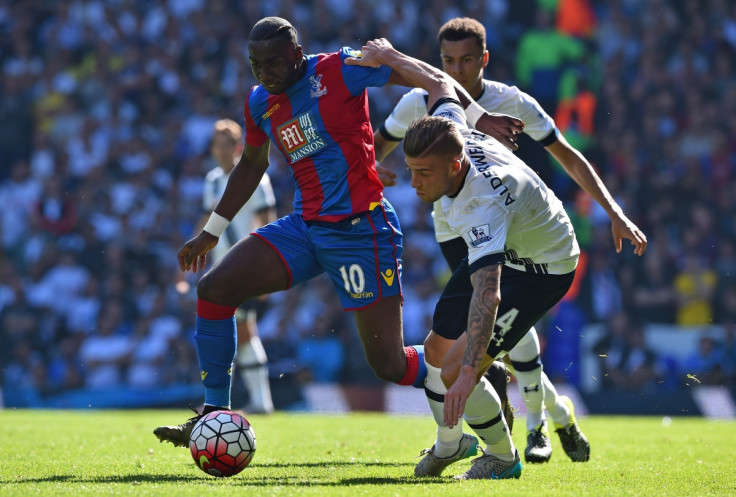 Yannick Bolasie has cooled summer speculation linking him with a future move to Tottenham by signing terms on a new contract at Crystal Palace. The talented winger, who has become one of the club's key players since joining from Bristol City in 2012, has penned a new three-and-a-half year deal at Selhurst Park that should at least secure a hefty transfer fee in the event that he is sold at the end of the season or beyond.
"Crystal Palace can confirm that Yannick Bolasie has signed a new three-and-a-half year deal with the club," a club statement read. "The exciting winger has become a fan favourite during his three years in SE25 so far and supporters will be pleased to hear that he has decided to remain in south London."
After further proving his ability to thrive at the top level with four goals and six assists in 2014/15 to complement several exciting performances not short on pace and trickery, many expected Bolasie to depart Palace at the end of last season with Tottenham believed to be leading the race for his signature. Manager Alan Pardew insisted that he would not be attainable for anything below his £25m ($37.9m) asking price, however, despite conceding that the Democratic Republic of Congo international or indeed any of his players would be "foolish" not to consider such a move.
Of Bolasie's decision to extend his stay in south London, Pardew told the official Palace website: "This is a good news story for the football club, to secure this guy. Not only is he an exciting guy who the fans love, he's a great person and a great character. Unspoilt really by the fame and success he has had. If I can make him even better then that's good security for the football club.
"I've said all along this guy needs to deliver the final moment and when he does that he won't be here for three and half years or whatever it says on that contract. My first priority is to secure him to develop him. And if I can develop him and take this club forward that's great."
Bolasie, who was granted compassionate leave earlier this season following the death of his father, declared himself delighted with his new deal and pledged to showcase that joy during Palace's top-flight clash with newly-promoted Watford at Vicarage Road on 27 September.
"Delighted to have signed my new deal with @CPFC, words can't explain how happy I am," he wrote on Twitter. "I will just have to show it tomorrow."